Rifi accuses Hezbollah, allies of being behind the riots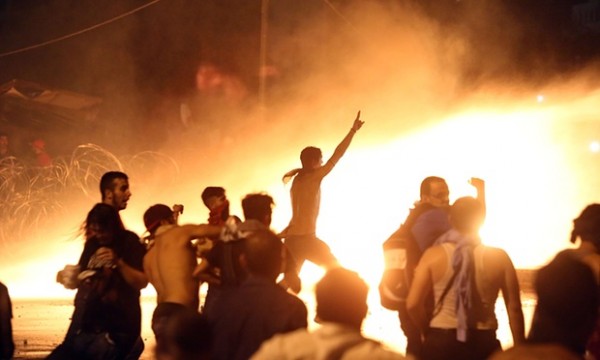 Lebanon Justice Minister Ashraf Rifi said that "the popular uprising is aimed at toppling the corrupt system and punishing the corrupted politicians but, on the other hand, some are trying to politically take advantage of this wave, such as  the Free Patriotic Movement, and some others are infiltrating  this protest, and by that I mean Hezbollah, which sends the  Saraya al-Muqawama  ( resistance ) elements to stir riots."
In an interview with Al-Arabiya TV, Rifi said "as a former security man I know very well what I am talking about. Those who tried to burn Al-Jadeed TV are the same ones now trying to burn Beirut downtown."
Rifi stressed that "there is a major responsibility on the military and security forces in maintaining security and order, and in defending certain public and private institutions and places that have a symbolic reference."
"It is unacceptable that the statue of former  prime minister  Riad Solh be assaulted, or that the tomb of Martyr Prime Minister Rafik Hariri, who is the man of the second independence, be tampered with," the Minister said.
Rifi was the general director of the Lebanese Internal Security Forces from 2005 to 2013. He has been serving as minister of justice since  February 2014.
Saraya al-Muqawama is a cross-sectarian proxy force trained and armed by the Iranian-backed  Shiite  Hezbollah militant group.
Protesters clashed with police in centralBeirut over the weekend, as a campaign that began with demands to solve an ongoing trash problem developed into a major crisis for the Lebanese government.
Formed in mid-July as a response to garbage piling up in the streets of the capital, the "You Stink" movement has gained momentum over the past few weeks, galvanizing a weary public that has grown sick of government inaction and corruption.
Hezbollah threw its weight Tuesday behind the mass protests by the "You Stink" campaign calling for the government's resignation. Hezbollah was accused of exploiting the campaign for its own agenda. Rioters at the Riad al-Solh Square   ( where the statue of former  prime minister  Riad Solh  is located )  smashed the glass facades of some shops in Banks district.
Many protesters, including some of the You Stink   organizers, have distanced themselves from those who clashed with police, describing them as "infiltrators" and "thugs" sent by sectarian leaders to discredit the campaign.
YL/NNA