Lebanon news updates for Thursday August 27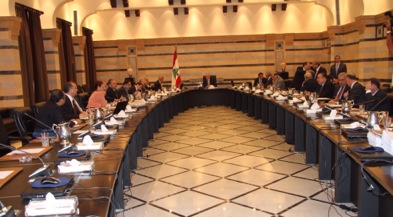 Here are the latest updates on current issues in Lebanon.
Lebanese Cabinet
The cabinet session kicked off at the Grand Serail.
Foreign Minister Gibran Bassil contacted PM Tammam Salam and informed him that FPM , Hezbollah , Marada and Tashnag party ministers will boycott today's cabinet session.
Health Minister Wael Abu Faour said the cabinet will take decisions on urgent issues.
Minister of Economy and Trade Dr Alain Hakim said " We might walk out of the cabinet session today if the garbage problem is not resolved as the first item on the agenda.
Minister Mohammed al-Mashnouq said Sukleen workers ended their strike, adding the garbage problem will be resolved today.
Interior Minister Nouhad al-Mashnouq was quoted as saying: "The absence of the six ministers from the cabinet session is an escalatory move. everything can be solved through dialogue .
"Change and Reform" bloc MP Nabil Nicolas said on Thursday that the FPM and Hezbollah's ministers decided to boycott the Cabinet session as they refused to be false witnesses in a Cabinet that does not take the Constitution and partnership into consideration, NNA reported
"The signing of 18 ministers on the ordinary decrees is a violation to the Constitution because all the ministers should agree and sign the decrees," he stressed.
Ain el Helweh camp
Cautious calm prevails in Ain el Helweh camp after an exchange of fire overnight between armed rivals that left 2 dead, NNA reported.
Islamic State
The Lebanese Army targeted with artillery on Thursday morning positions of IS in Ras Baalbek outskirts . Several militant casualties were reported according to NNA field reporter .
Garbage issue
Sukleen employees blocked Karantina road on Thursday morning demanding to be given all their rights if bids settled on other trash collection company, NNA reported said.
But Sukleen Company on Thursday said that it was fully keen on the rights of its employees and confirmed commitment to provide them with all their rights.
The company has also confirmed that sukleen trucks and vehicles were dispatched early on Thursday to collect the accumulating wastes in Beirut and its suburbs after landfills have been ensured.
You Stink campaign
You Stink" group announced that the protest on Saturday will be held in downtown Beirut's Martyrs Square at 6:00 pm.
MP, Ammar Houry, described the most recent developments that have been being witnessed at the Lebanese local scene as "dangerous indicators."
"The matter has evolved from an attempt to handle the garbage and electricity problems to an attempt to topple the Lebanese regime," he told Voice of Lebanon radio station.
He explained that the cabinet's meeting today was beyond just discussing decrees, but rather more discussing whether the nation would survive or not.
Misc./ Security
NNA reported that a Lebanese man was found dead with a gunshot in the head in his home's basement in the Jbeil town of Ehmej.
Assir
Al Jadeed reported that Judge Abu Ghida issued an arrest warrant against Salafist Sheikh Ahmed al-Assir ( who was arrested last week) following the hearing during which Assir admitted that he supported Khaled Hoblos during the clashes with the army in Bhannine.
Yesterday Assir was charged by Judge Dany Zhenni with forming terrorist cells in the southern city of Sidon.
Judge Zhenni also charged him with plotting the assassination of political and religious figures and inciting to attack the army.
Dialogue revival
Speaker Nabih Berri has been contacting Lebanese political parties to revive the all-party talks that he had launched in 2006, al-Akhbar newspaper reported on Thursday. He wants the talks to be held at his residence in Ain el-Tineh or at the parliament, the daily reported.
He first chaired the dialogue talks in the spring of 2006. But the talks were interrupted by the summer war between Israel and Hezbollah.
The talks were later chaired by former president Michel Suleiman after his election in 2008
Unfortunately for Lebanon the Iranian backed Hezbollah reneged on the deals reached during the dialogue talks .
In 2006 it initiated a war with Israel when it kidnapped 2 Israeli soldiers despite a deal that war and peace decisions will be jointly decided by all concerned parties
and in 20013 Hezbollah decided to fight alongside the forces of the Syrian regime against the mostly Sunni rebels despite the Baabda declaration which called for distancing Lebanon from events in Syria.
Imam Moussa Sadr
Speaker Berri, on Thursday called for a huge turnout in the commemoration of the vanishing of Imam Moussa Sadr and his comrades, Sheikh Mohammad Yaacoub and journalist Abbas Badreddine, on forthcoming Sunday in Nabatieh in southern Lebanon.
"I call upon everybody to participate in the day of loyalty to Imam Sadr and his comrades, to wave the flag of their freedom, on forthcoming Sunday at Ashoura Square in Nabatieh, at 6:00 pm," the Speaker said in a statement.
FPM leadership
LBCI reported that Ziad Al Bayeh list of candidates to head up the Free Patriotic Movement was dismissed for failing to meet "required conditions". The report did not provide any details about the required conditions
FM Gibran Bassil's list won uncontested.
He will replace his father-in-law MP Michel Aoun as the new FPM leader.
There was no mention of the list of FPM member Fares Louis who announced his candidacy last week. The door for candidacies closed today at 12:00pm.
"I won by acclamation, but remember acclamation is a form of democracy," Bassil said, addressing FPM members at the Conference Palace in Dbayyeh after his list won uncontested .
Bassil s married to Chantal Aoun, FPM leader Michel Aoun's daughter, in 1999 and has tried on numerous occasions to get elected to public office. His first attempt came in 2005 and then again in 2009, when he ran for parliamentary elections as a representative of his hometown Batroun.
Dispute his failure to get elected, every Cabinet since 2008 has included Michel Aoun's favorite son-in-law. Bassil served several tenures as telecommunications, energy and most recently, foreign affairs minister.
Aoun reportedly pressured  his nephew Alain to withdraw his candidacy  when it grew apparent that an  election would tear the party apart.
"We agreed on a semi-consensus rather than an absolute majority so that the movement would be powerful," Bassil said, "a single party made up of multiple cooperating teams." He said
In a poetic speech, Bassil detailed his plans and vision for the future of the FPM.
"The General will remain the movement's temporal and eternal leader.", in reference o his father-in-law