Lebanon news updates for August 26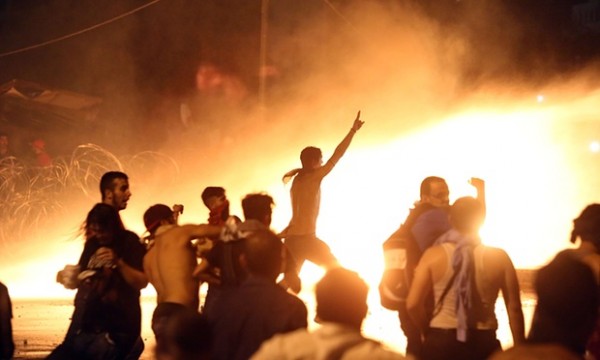 Here are the latest updates on current issues in Lebanon.
Garbage 
Residents of the town of Naqoura blocked on Wednesday the highway in both directions with burning tires protesting the existence of landfill in the region, Traffic Management Center said, according to NNA.
The residents of towns near Naameh said they will set on fire any trash truck that tries to enter the closed landfill, MTV reported
You Stink campaign
The  Iranian backed Shiite Hezbollah militant group  threw its weight Tuesday behind the mass protests calling for the government's resignation, deepening a crisis that started over piles of uncollected garbage in the streets of the capital but has tapped into a much deeper malaise.
Hezbollah ministers and their allies walked out of a Cabinet meeting Tuesday meant to discuss the worsening garbage crisis. Prime Minister Tammam Salam called the emergency session after the weekend clashes between security forces and demonstrators protesting corruption and poor public services.
In a statement Tuesday, Hezbollah said the garbage crisis reflected the "endemic and accumulated corruption of the past two decades" and policies that only serve "personal and political interests at the expense of citizens." It said holding peaceful protests was a legitimate right.
Hezbollah was accused   by An Nahar columnist of exploiting the "You Stink" movement for its own agenda.
Tarek Sarhan, a 17-year-old "You Stink" supporter, said there would always be groups that try to manipulate grass-roots movements for their own political gains in a country like Lebanon.
"We want… an end to sectarianism. We want to build a state,"Sarhan said.
MTV reported that protesters are holding  a sit-in near the al-Helo Army  Barracks demanding the release of the individuals who were detained during Tuesday's demos.
Activists from the You Stink campaign held a candlelight vigil outside the Grand Serail in solidarity with the protesters who were injured.
Some young men are hurling firecrackers across the barb wire that is installed outside the Grand Serail, NNA  reported
Gas prices down
To reflect the drop in crude oil market prices the Lebanese government reduced the price of gasoline 95 and 98 octane by 600 LL ( or 40 US cents ) or about 10 cents a gallon
Aoun
FPM chief postponed the press conference that was scheduled for today to Friday at 11:00 am.
Travel advisory to Lebanon
The United Arab Emirates issued warnings over travel to Lebanon because of the security situation.
More violence in Palestinian camp
Unknown assailants hurled a grenade at the vegetable market in Ain el-Hilweh Palestinian Refugee camp near Sidon overnight but no injures were reported.
Assir
MTV reported that  Judge Dany Zeani pressed charges against Salafist Sheikh Ahmed al-Assir ( who was arrested last week) and referred him to Judge Abu Ghida.
We Want Accountability campaign
LBCI reported that Protesters have started gathering to take part in a march organized by the We Want Accountability campaign in solidarity with wounded protester Mohammed Qassir. It started marching from Riad al-Solh to the AUBMC hospital in Hamra .
Mohammed Qassir's family told As Safir newspaper : We have nothing to do with the calls of the You Stink campaign or other groups for rallying for our son in Riad al-Solh or outside the AUBMC.
Protesters arrived at AUBMC.
1