Jeb Bush calls Donald Trump a "long-term Democrat"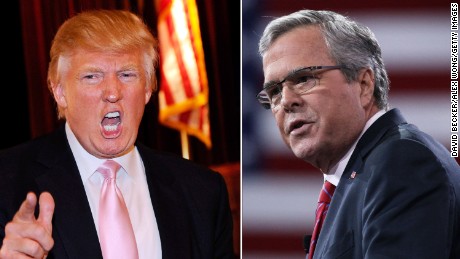 By Jose A. DelReal and Ed O'Keefe
MERRIMACK, N.H. — Republican presidential candidate Jeb Bush made a significant shift in strategy Wednesday
night by launching a direct attack on rival Donald Trump, questioning the businessman's conservative credentials.
Bush's comments about Trump came as the two held rival town hall meetings about 20 miles apart from each other.
The dueling appearances dominated cable news coverage Wednesday night as several channels broadcast split
screens to demonstrate a contrast in styles. While Bush led a more intimate gathering of mostly elderly voters,
Trump took the stage before 2,500 people packed into a theater in Derry.
Bush has found himself in an unexpectedly vulnerable position in New Hampshire in recent weeks. Trump has
surged to the top of the field among Granite State voters, pushing Bush to a distant second. Meanwhile, Ohio
Republican Gov. John Kasich — a late entrant into the race — has moved into a statistical tie with Bush in recent
surveys.
Although Trump frequently criticizes Bush's style and energy on the stump, Bush has for the most part avoided
directly engaging with the billionaire. But on Wednesday, Bush responded to a question by a voter who asked about
the "candidate that's leading in all the polls."
"You're talking about Trump, aren't you?" Bush deadpanned. "You can mention his name, he's the current frontrunner.
He's done a pretty amazing job to get to that point."
The former governor said that Trump "has clearly got talent" and "has won a lot of people over." But he stressed
that he believes Trump's record is less than conservative.
"Mr. Trump doesn't have a proven conservative record," he said. "He was a Democrat longer in the last decade than
he was a Republican. He has given more money to Democrats than he's given to Republicans."
"Even on immigration where…the language is pretty vitriolic for sure," Bush added. "But hundreds of billions of
dollars of costs to implement his plans is not a conservative plan. This is going to be my pitch: Let's support
someone who you don't have to guess where he stands because he's consistent, because he's been governor he's
consistently had the views that he has."
"I think what people are eventually going to vote for is a proven conservative leader that's done it – not talked about it, that's actually done it," Bush said later. "And I have a proven conservative record, a consistent proven
conservative record."
Bush's campaign quickly followed up on the comments by distributing the remarks via social media. In doing so,
aides characterized Trump as a "tax-hiking Democrat," although Bush didn't use those words.
Moments after Bush made his comments, Trump took the stage at his event and almost immediately went after the
former Florida governor.
"You know what's happening to Jeb's crowd just down the street? They're sleeping!" he said as applause broke out.
Trump told reporters before the event, "I don't see how he's electable," and called Bush "a low-energy person."
Raising questions about Trump's conservative bona fides is a new approach for Bush, who until Wednesday
generally avoided making direct criticism of the front-runner and usually only spoke about his opponent when
asked by reporters.
During a stop in South Carolina, when Bush was asked whether Trump has the credentials to serve as a
commander-in-chief, he said: "I'm going to focus on my candidacy and my experience and my views. … I'll let others judge people's qualification."
One prominent Bush donor suggested late Wednesday that the new aggressive posture "generally results from the
reaction of some donors to a rather placid, if technically on-message debate performance where he only 'came alive'
on education."
"Trump is taking it to Jeb and others, bully-like. It's time they all take it to him without playing his game," said the donor, who asked to remain anonymous in order to speak frankly about campaign strategy.
In New Hampshire, Bush supporters remain confident of his chances, given that he's made frequent trips here and
manages to hold a mix of public and private events each time he visits. Wednesday night's event marked his sixth
town hall this year amid 26 separate public events during 11 trips to the state, according to campaign aides.
The Bush campaign is also poised to earn significant support soon on the state's airwaves. Right to Rise USA, the
super PAC allied with Bush's bid, is set to begin airing millions of dollars in television ads in New Hampshire next month. The ad buys are scheduled to run through December and the messages are expected to be mostly positive
biographical portrayals of Bush's eight years as Florida governor.
In conversations Wednesday, several supporters said those ads — while not officially sanctioned by the campaign —
are part of a "long-term" strategy of running a "reliable" campaign set to peak early next year.
State Rep. Carlos Gonzalez, who announced his support for Bush last week, said the candidate "needs to campaign
as aggressively as [Sen. John McCain] when he was running the first and second times. You need to concentrate,
going town to town and visiting as many as possible. See as many nonprofits or groups as possible and make his
presence felt. He's done enough, but much more needs to be done at this point."
Gonzalez faulted Trump for "speaking in such a way as if we are marketing one particular Coca-Cola or 7-Up. This
isn't necessarily like private business, it's about the people's business. And when you're just using rhetoric, it's not conducive to unity."
Jamie Burnett, who also advised Romney's 2008 bid and is now backing Bush, said that his campaign is "putting
together a great mix of events. He'll do a day or two of policy events and town halls, retail stops and interviews with local press."
"He's engaging the voters," he added. "He's not turning to page 47 of his policy positions to check his answers, he's engaging people and giving them real answers.
Trump, Burnett said, "has been able to take the Michele Bachmann, Newt Gingrich and Herman Cain booms. …
He's running a national PR campaign. It's working now but it won't long term."
"He's like the mountains in New Hampshire – he creates his own weather," he added.
WASHINGTON POST