Bangkok bombing carried out by 'a network', Police chief says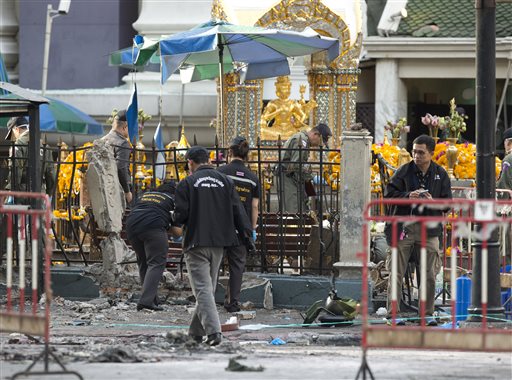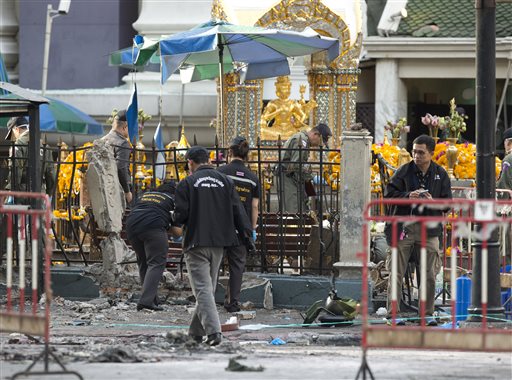 Thailand's national police chief said Wednesday that a deadly bombing at a central Bangkok shrine was carried out by "a network," as investigators focused on a man seen in a grainy security video leaving a backpack behind just 20 minutes before the explosion.
Police chief Somyot Poompanmoung made the comment as he headed into a meeting of national police commanders, saying he was carrying orders from the prime minister who "is worried about the security of people and tourists in Thailand."
Two days after the attack, the shrine reopened to the public but little is known about who was behind the blast or the motive. No one has claimed responsibility for the Monday evening explosion at the open-air Hindu shrine, located at one of the capital's busiest intersections, which left 20 people dead and more than 120 injured.
But authorities said they were certain that the man seen in the video — with shaggy dark hair, wearing a yellow shirt and carrying a large, dark-colored backpack — was responsible.
"He didn't do it alone, for sure. It's a network," said Somyot. He did not elaborate.
Police have released still photos of the man, both with and without the backpack, and a video posted separately on Thai media appeared to show the same man sitting on a bench at the shrine, taking off the backpack and leaving it behind as he walked away.
The attack has raised concerns about safety in a city that draws millions of tourists and had never experienced an attack of this magnitude.
Prime Minister Prayuth Chan-ocha called the bombing "the worst incident that has ever happened in Thailand" and vowed to track down those responsible.
The site of the attack, the Erawan Shrine, is a revered spot among Thais and tourists that transcends religion. It is dedicated to the Hindu god Brahma, but is extremely popular among Thailand's Buddhists as well as Chinese tourists.
Although Thailand is predominantly Buddhist, Hinduism has an influence on its religious practices and language. The shrine's location adds to its popularity, offering an open-air place for prayer amid the capital's gleaming shopping malls and five-star hotels.
On Wednesday morning, a stream of people arrived at the Erawan Shrine, kneeling in prayer, lighting incense and placing flowers at the site where 36 hours earlier an explosion scattered body parts across one of the capital's busiest intersections. Buddhist monks in saffron robes joined members of the public to chant prayers at the popular Hindu shrine.
Among those who paid respects was an office worker, Nuansupha Sarunsikarin, who expressed shock and sadness over the attack, which no one has claimed responsibility for. Authorities say it came by surprise, with no clear motive.
"I'm depressed for those innocent people who had to pay for something they're not involved with and now have no chance to live their lives," Nuansupha said.
Thai authorities identified five victims as Thai and four as Chinese — two of them from Hong Kong — along with two Malaysians and one Singaporean, and said the nationalities of the other eight victims remained unknown.
The British Foreign Office said one victim was a British citizen named Vivian Chan who lived in Hong Kong. It was not immediately clear whether she was one of the two Hong Kong victims identified by Thai officials. Officials at London's BPP University said she had studied there.
Bangkok was rattled by a second blast Tuesday at a popular ferry pier, which caused no injuries. Prawut said Tuesday's blast at the Sathorn Pier frequented by river ferries and tourist boats also was caused by a pipe bomb and could be related to the shrine attack.
Police said that bomb was thrown from the Taksin Bridge and fell into the Chao Phraya River, where it exploded. Security video showed a sudden blast of water over a walkway at the pier as bystanders ran for safety.
Thailand has seen many violent attacks in recent years, particularly in a more-than-decade-long insurgency by Muslim separatists that has killed over 5,000 in the country's south. Those attacks have never reached the capital, however.
Bangkok has seen politically charged violence in the past decade; the deadliest, in 2010, killed more than 90 over two months and was centered on the same intersection where Monday's bomb went off. But none of those attacks included a bomb that seemed intended to produce mass casualties.
Associated Press/My Way