Geagea hails Assir's arrest as "major achievement "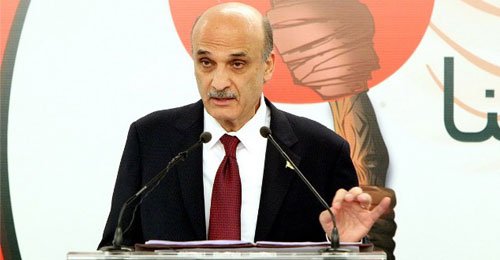 Lebanese Forces leader Samir Geagea hailed on Sunday the security agencies for their arrest of hardline cleric Sheikh Ahmed al-Assir despite his disguise , calling it a "major achievement."
Geagea wondered however: "How is it that Assir was arrested, despite his full disguise and fake passport, while the same agencies have failed to arrest the killers of Hashem al-Salman and Sobhi and Nadimeh Fakhri even though they never wore a disguise?"
He made his observations via his Twitter account.
"How is it that these same agencies have not been able to stop street, drug, and kidnapping gangs in the Bekaa region even though they are well-known and are free to roam the country?" continued Geagea.
Assir was arrested at Beirut's Rafik Hariri International Airport on Saturday as he attempted to leave the country to Nigeria through Egypt.
He was using a fake Palestinian passport and had underwent a number of plastic surgeries to alter his appearance.
The hardline anti-Hezbollah cleric is wanted for his involvement in the clashes against the army in the southern city of Sidon in 2013.
Salman was killed in 2013 in a scuffle between supporters of Hezbollah and protesters near the Iranian embassy in Beirut.
The demonstrators were holding a sit-in near the embassy to protest Hezbollah's involvement in the war raging in Syria.
Sobhi Fakhri and his wife Nadimeh were killed in 2014 in a crime committed by a fugitives from al-Jaafar clan in the Baalbek town of Btedei.
The gunmen were fleeing raids carried out by the Lebanese army in the Dar al-Wasaa area when they entered the Fakhri house with the intent of taking their vehicle.
The family refused to meet the demands of the armed men, which prompted them to shoot the couple and their son.
None of the perpetrators in the crimes have been arrested.
In addition 5 Hezbollah members accused of being behind the assassination of former Lebanese PM Rafik Hariri remain at large. Hezbollah chief Hassan Nasrallah refused to hand them over to the Special Tribunal for Lebanon.
Similarly , former Prime Minister and Future Movement leader MP Saad Hariri praised the vigilance shown by the General Security agents at the airport, and their success in foiling the escape attempt. He called on all Lebanese leaders to refrain from protecting criminals and armed gangs, whoever they are and to whichever group they belong. A possible reference to Hezbollah's protection of its 5 members who were behind his dad's assassination