Aoun's surprise protest was no surprise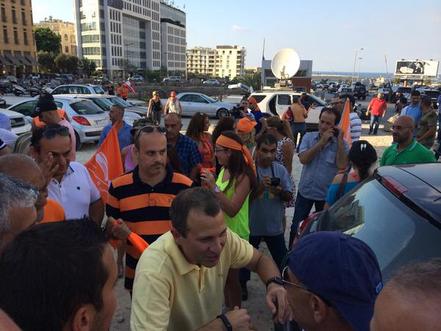 Dozens of Free Patriotic Movement supporters staged motorized protests on Wednesday and organized a central rally at Beirut's Martyrs Square, following a call by  its leader MP Michel Aoun to demonstrate against the extension of the terms  of the  top military officers in an attempt to put pressure on the government of Prime Minister Tammam Salam.
" FPM's youth department took off in a convoy of cars  from the Mirna Chalouhi highway (in Sin el-Fil) towards Martyrs Square in central Beirut,"  National News Agency reported Wednesday evening.
An FPM official on the ground stressed that "the protests will be peaceful."
"No roads will be blocked," the official told the reporter of a TV network.
Other motorized protests took off from  Nahr el-Mot, Jounieh, Baabda, Batroun, Ashrafieh's Sassine Square, Nahr Ibrahim and Koura.
The protesters started gathering at 4:00 pm.
Protesters at the square were joined by Foreign Minister Gebran Bassil, Education Minister Elias Bou Saab and several FPM lawmakers.
"We call for accepting each other and achieving true partnership," said Bou Saab from Martyrs Square.
"We are convinced of our demands and this government cannot function without real partnership," he added.
Delivering a speech at the central rally, FPM general coordinator Pierre Raffoul said: "We are here to demand the rights of the Lebanese. We are all eliminated from the equation — Christians and Muslims."
"They have been monopolizing power for the past 25 years," he added, referring to rival parties.
"We are here to demand our usurped rights. Only partnership can protect Lebanon and immunize the institutions ," Raffoul stressed.
"Last week they said that there is a regional and international decision to eliminate General Aoun from the equation … You will never be able to eliminate General Aoun," he underlined.
The FPM official  concluded his speech by saying
"Prepare for the coming tsunami."
Aoun on Tuesday urged his supporters to take to the streets following the weekly meeting of his Change and Reform bloc.
He said "there is a campaign to push the Lebanese to despair and the issue is not personal, but rather the cause of all Lebanese."
His supporters held a similar protest last month to call for the restoration of Christian rights, claiming that the prime minister was infringing on the authorities of the Christian president in his absence.
A recent decision by Defense Minister Samir Moqbel to extend the terms of three top military officials  angered Aoun, who has been for months campaigning for the appointment of new army and security chiefs.
Aoun wants his son-in-law Commando Regiment commander Chamel Roukoz to replace  General Jean  Kahwaji  as the army commander.
Last Saturday Aoun  launched  a personal an attack against Kahwaji
Wednesday's protests came a day before a session for the cabinet, which has been marred by disputes over its working mechanism, the extensions and the waste problem.
Aoun  said Tuesday he will "surprise" the  Lebanese people on his next step.
If today's protests were the surprise , they  were a very modest step by any standard according to observers  and clearly exposed  Aoun's inability to rally huge crowds
Aoun's allies seem to be dumping him
Marada leader MP Suleiman Franjiyeh , Aoun's  top Christian ally  said  Tuesday that Kahwaji is  his friend and he has no intention to join Aoun in his protests against the army.
Speaker Nabih Berri, who ruled out Aoun as a future head-of-state, added salt to injury  when he told several visitors, according to the usually well informed Al Nahar daily, that the FPM's recent maneuvers  in the cabinet—which was topped by an unprecedented shouting match between the foreign minister and his prime minister on July 9, 2015—proved fatal for a Roukoz appointment too.
Berri is Hezbollah's closest ally
Government sources revealed to the al Jamhouriah  newspaper  that "Hezbollah"  handed over to his allies including General Michel Aoun, a brief message calling for   the need for restraint to the maximum limits, and not to get involved in any confrontation with the army.
Berri's  criticism of Aoun could very will signal that Hezbollah has finally decided that the former general has  become a huge liability , according to observers .