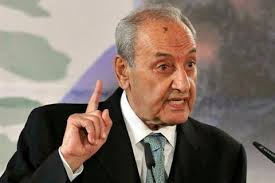 Lebanese parliament Speaker Nabih Berri said  that he would not vote for Free Patriotic Movement leader MP Michel Aoun  and  he backs  Prime Minister Tammam Salam  whom he  considers  to be one of the best prime ministers who have reached office in Lebanon .
In remarks to As Safir newspaper published on Monday, Berri expressed surprise at Aoun's continued insistence to consider the parliament illegitimate while at the same time expecting it to elect him as president.
"I personally reject this logic and refuse to vote for someone who considers me illegitimate," said Berri.
The speaker, who also heads the Amal Movement, said that he "holds onto his dignity and the dignity of the legislature" if the FPM chief continues to stick to his stance.
Berri also defended Salam against a campaign launched by the FPM over its insistence to discuss the cabinet's working mechanism ahead of any other issue.
The dispute with the FPM has forced Salam to hint that he would resign.
But  Beri  said he rejects any possible resignation by Salam, warning that such a decision would lead towards "destruction."
"Salam is among the best prime ministers who have reached office in Lebanon", he told As Safir.
But unfortunately, some parties that are eager to topple him, need a lot of time to be skilled in politics, Berri said.
The speaker also reiterated that the rival Lebanese officials will no longer be able to resolve the presidential deadlock.
The solution should now come from abroad, he said.
Berri is reportedly remains  hopeful  that the results of the nuclear deal signed between Iran and major powers will start appearing when the U.S. Congress ratifies it.