Syrian warplane crash in residential area kills at least 27 people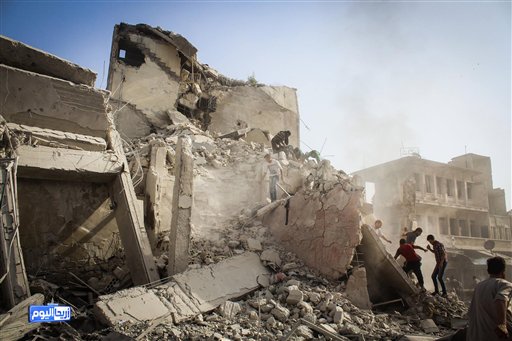 Government air raids in a northwestern town in Syria and a subsequent crash by a Syrian warplane that slammed into a residential area there killed at least 27 people on Monday, activists said.
The raids on the town of Ariha came amid intense clashes between government forces and insurgents in the northwestern province of Idlib and the central region of Hama. The town, once a government stronghold, was captured by opposition fighters and Islamic militants in May. Government forces have suffered setbacks in Idlib province since March, including the loss of the provincial capital of the same name.
An activist group known as the Local Coordination Committees said the warplane crashed in a busy market, adding that it was not immediately clear whether it was shot down. The LCC said 27 people were killed and many others were wounded.
Rami Abdurrahman, who heads another activist group, the Britain-based Syrian Observatory for Human Rights, said the plane crashed in the town center, destroying several homes. The Observatory later said that 31 people were killed and more than 60 were wounded.
The Ariha Today Facebook page posted a photo showing at least seven buildings reduced to rubble on a narrow street. It said 27 people were killed but that 12 of them have not been identified yet.
The group also listed 55 wounded, including nine women. The discrepancies in the different casualty figures reported could not be reconciled.
The Observatory and the LCC said that at the time of the crash, the town was under attack by Syrian President Bashar Assad's air force.
An amateur video posted online by activists showed several damaged buildings, as well as parts of the plane that crashed. The video appeared genuine and corresponded to other Associated Press reporting of the events.
Syria's civil war began in March 2011. U.N. chief Ban Ki-moon said last week that at least 250,000 Syrians have been killed in the conflict so far.
ASSOCIATED PRESS