Israel deploys Iron Dome on Lebanon border as Hezbollah anticipates arms from Iran
 Israel has deployed the Iron Dome defense system  to the north, l amid fears Lebanon-based Hezbollah could get an infusion of cash and weapons from Iran.
In an exclusive interview with FoxNews.com, Col. Yoni Saada Marom, commander of Israel's Active Defense Air Wing, said that the military drills were not a direct reaction to recent events, but made clear that Hezbollah and other terror organizations close to Israel's borders presented a potentially heightened threat.
"We saw that during Operation Protective Edge [2014 Gaza War] the Iron Dome faced one kind of challenge in the south," he said. "Now, we are dealing with the challenges and scenarios that we think the enemies from the north will bring. One of the scenarios could be that, like Hamas, they will try and challenge us with a variety of threats simultaneously — which is a great challenge — but we are developing our concepts of operation."
Some military analysts have expressed skepticism that the revolutionary defense shield will hold up under a sustained assault from a wide variety of more lethal missiles attacking from different points of the compass and maintain the approximately 90 percent interception rate claimed by the IDF during last year's Gaza conflict.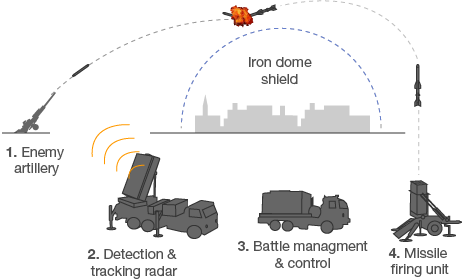 Seemingly emboldened by the nuclear deal that would hand as much as $150 billion to its patron, Iran,  Hezbollah has recently ratcheted up rhetoric against Israel and the U.S. Despite reportedly sustaining heavy losses in Syria, it remains arguably an even more potent threat to Israeli security than at any time since the Second Lebanon War in 2006.
Hezbollah already has at least 10 times the firepower and far more sophisticated technology than that available to Hamas in Gaza last summer. Its massive arsenal is directed at Israel from what is meant to be the de-militarized zone patrolled by UNIFIL, the United Nations force in Lebanon. Most of the missiles are supplied by Iran.
"Following the nuclear agreement, the Iranian president and other officials have reiterated that the country's stances towards Hezbollah would not alter," Hezbollah leader Sheikh Hassan Nasrallah stated on July 25 in a speech in Beirut. "We say it out loud and with pride, and we thank [Iran] for all the moral and financial support."
"We feel pride when the U.S., which we consider the Great Satan before and after the nuclear deal, penalizes us because we are defending our country against the Takfiri [Muslim non-believers] and Israeli schemes," Nasrallah added, according to Lebanon's Hezbollah-affiliated Al Manar network.
With Syrian president Bashar al-Assad's embattled forces, supported by Hezbollah, fighting against a variety of Sunni Muslim terror groups headed by ISIS and the Al Nusra Front, Israel is being extra-vigilant, especially given Nasrallah's fiery rhetoric that Israel remains his prime target despite Hezbollah's commitments in both Lebanon and Syria.
On Wednesday night, regional reports suggested that two separate airstrikes in the Syria-Lebanon border area had targeted major figures connected to Hezbollah as well as a pro-Syrian regime  Palestinian militant  group. Israeli officials, as is routine, do not comment on speculation that Israel was behind the strikes.
Marom is responsible for the Iron Dome's defense of his country from its northern borders with Lebanon and Syria, all the way down to its southernmost point, Eilat, on the Red Sea, adjacent to the volatile Sinai Peninsula. The unique defense system locks onto the co-ordinates of incoming missiles targeting population centers and destroys them in mid-air before they can reach their intended target. It was developed and built by Israel's Rafael Advanced Defense Systems and Israel Aircraft Industries, but has been the subject of significant financial support from the US as well as integrating shared technology from both nations.
Marom didn't offer specific numbers, but revealed that more batteries are now operational than was the case in Gaza last summer, and that more soldiers have been trained to operate the additional sophisticated systems.
As for whether or not Hezbollah is imminently planning to attack Israel, Marom is philosophical about his responsibilities.
"As a military commander I cannot deal with their intentions," he said. "They can do whatever they choose to do, and I, as a defender, need to be ready for that. I cannot control his mind, but I can defend my country and defend our sovereignty."
FOX NEWS