'You Reek' activist group protests over Lebanon garbage scandal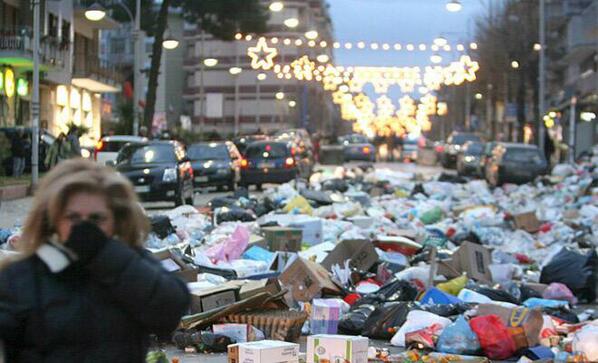 An activist group that was born from Lebanon's week-long  garbage  scandal    held Tuesday  a protest to pressure the government to adopt a sustainable solution to the country's garbage crisis.
Led- by Toliit Rehitkon group , which roughly translates to "You Reek ( stink) ,"   hundreds of protesters rallied outside the government headquarters in Downtown Beirut Tuesday in a mostly-peaceful demonstration .
But a small handful of the protesters hurled eggs and water bottles at the Grand Serail, and others tipped over dumpsters as the police stood by and watched calmly.
Later, an angry group that marched to Hamra dumped  garbage at the car of  Social Affairs Minister Rashid Derbas near the Interior Ministry.
The protest was originally planned to coincide with a special Cabinet session that had been scheduled for 10 a.m., but Prime Minister Tammam Salam postponed the meet to Thursday.
The protest comes one day after a deal was announced to remove the mountains of uncollected trash that had covered Beirut and Mount Lebanon for more than one week.
But the agreement, announced by Environment Minister Mohammad Mashnouk, simply identified new areas where trash would be dumped, and did not address the core issue of waste treatment.
"We are here to demand the toppling of the government because it is not doing its job," one  activist  told television reporters from Riad al-Solh Square.
The activist called on fellow citizens to join the rallies to bring down the "corrupt ruling class."
A video taken by members of You Reek posted to its Facebook page showed trucks dumping garbage in an open space.
The activists said they followed garbage trucks overnight to reveal where it was being dumped. In a caption under the video, the group said Ashrafieh's trash was being dumped in a bus parking lot in Sin al-Fil and in the Beirut River.
"Is this the solution announced by the environment minister?? The corrupt [class] is killing us… Don't be fooled by unreal solutions, the crisis is not solved, [let's take]  to the street!!!"
Public anger has been on the rise over the trash crisis, which has seen garbage piling up on the streets, enters its second week without a solution on the horizon.
On Monday, hundreds of protesters had blocked a major highway linking Beirut with south Lebanon for a second day to prevent garbage trucks from dumping waste near their neighborhoods, triggering clashes with security forces that left seven people wounded.
The piles of garbage serve as an uncomfortable reminder of a larger Lebanese political failure. The country has for many years faced nationwide infrastructure problems, including water shortage and daily electricity cuts.
"We have come to realize that a mafia is controlling Lebanon and its funds", Phalange party leader MP Sami Gemayel said after party's weekly meeting on Monday.
He was commenting on the garbage scandal in Lebanon
"We do not understand the delay in resolving the waste disposal crisis" he said
"Shame on all those who are blackmailing a company or party at the expense of the people for the sake of making money and personal gains, "he said without naming the politicians behind the crisis