Iran's FM begins tour of neighboring states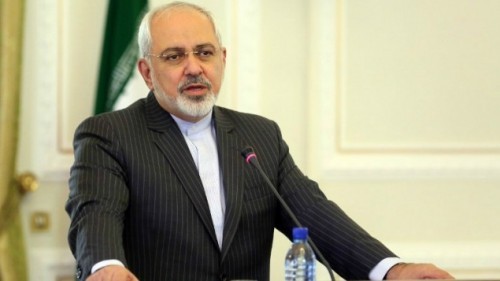 Iran's top diplomat began a three-nation regional tour on Sunday aimed at deepening ties with Arab neighbors following the conclusion of the Islamic Republic's historic nuclear deal with world powers.
Saudi Arabia and other Sunni-ruled Arab states lining the Persian Gulf harbor deep suspicions about Iran's intentions in the region. While the Western-allied Arab countries are cautiously hopeful the nuclear deal will reduce the chances Iran will acquire an atomic bomb, they also fear an easing of international pressure will embolden the Shiite powerhouse at a time of heightened sectarian tensions in the region.
Iranian Foreign Minister Mohammad Javad Zarif began his trip with a stop in Kuwait, where he received a red carpet airport greeting from his Kuwaiti counterpart, Sheikh Sabah Khaled Al Hamad Al Sabah. He later held talks with the ruling emir, Sheikh Sabah Al Ahmed Al Sabah, who paid his first visit as head of state to Iran last year.
Iran agreed earlier this month to limits on its nuclear program in exchange for broad sanctions relief. The curbs are aimed at preventing Iran from obtaining an atomic bomb, something it denies it is seeking.
Zarif's trip includes stops in Qatar and Iraq. He is briefing officials in all three countries on the nuclear accord and discussing ways to improve cooperation and fight terrorism, according to Iranian state-linked media.
Iran shares control of a vast underwater natural gas field with Qatar, a wealthy fellow OPEC member that in recent years has used its hydrocarbon riches to project influence across the region.
In Iraq, Tehran has close ties with senior government leaders and Shiite militias battling the Islamic State group, which has seized a third of the country.
Zarif said his country stands with its Arab neighbors — who unlike Iran are part of the U.S.-led coalition against the IS group — in the fight against extremism.
"Iran and the regional countries are facing common threats that should be confronted through mutual cooperation," he said in Kuwait, according to Iran's semi-official Fars news agency.
Growing discord with the Gulf island nation of Bahrain threatens to overshadow Zarif's outreach.
Bahrain on Saturday announced it was recalling its ambassador to Iran for consultations following what it called "continued hostile statements made by Iranian officials toward Bahrain," according to the official Bahrain News Agency.
Bahraini authorities also announced they have broken up an attempt to smuggle weapons, ammunition and explosives into the kingdom.
Among those arrested were two 30-year-old Bahraini suspects, Mahdi Subah Abdulmohsen Mohammed and Abbas Abdulhussain Abdullah Mohammed. Officials say the first suspect received military training in Iran in August 2013, and that the men admitted to receiving the shipment from "Iranian handlers outside Bahrain's territorial waters."
Bahraini authorities have announced similar confiscations of contraband weapons and explosives in the past. A Shiite-led opposition movement in Bahrain continues to press for reform in the country, which hosts the U.S. Navy's 5th Fleet.
Iran has voiced support for those demanding change in Bahrain but denies it directly intervenes in the country.
Bahrain last week summoned Iran's acting charge d'affaires, Mortadha Sanubari, to protest comments made by top Iranian leader, Ayatollah Ali Khamenei.
In a televised speech earlier this month, Khamenei said Iran would continue to support its regional friends despite its recent nuclear deal with world powers, including "the oppressed Palestinian nation, Yemen, Syria, Iraq (and) Bahrain."
Iranian Deputy Foreign Minister for Consular Affairs Hassan Ghashghavi downplayed the ambassador's recall. He said it was only for consultations and that there would be no cut in diplomatic ties, according to the official IRNA news agency.
Associated Press