Akkar tells Lebanese officials : We don't want your garbage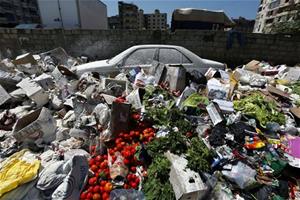 Lebanese Prime Minister Tammam Salam along with a number of Future  Movement officials, and Environment Minister Mohammed al-Mashnouq have been studying potential solutions to the waste disposal crisis. Dumping the garbage in the northern region of Akkar was one of their options, but Akkar told them to keep their garbage according to a  report by al-Hayat daily  on Saturday.
The report  said that Akkar officials have "adamantly refused"  to allowing its land to be used as landfills  "following years of neglect by politicians."
The talks over a solution have been tackled by Salam,Future Movement chief MP Saad Hariri, and  ,Future Movement parliamentary bloc leader  MP Fouad Siniora, Interior Minister Nouhad al-Mashnouq, and the Environment Minister.
Akkar is reportedly one of the most neglected areas and for this reason its  official  were outraged that the politicians only thought of Akkar   when it came to disposing their garbage ."
On the other hand the Lebanese  officials criticized Akkar for neglecting the maintenance of the sewage system and government hospital in the northern region.
They also criticized it for the absence of any Lebanese University branches similar to  other regions in the country, reported al-Hayat.
Moreover, they said that the landfill project proposed by politicians does not have the proper barriers that would prevent the waste from seeping into ground water used for potable water in Akkar.
The officials have declared that allowing Akkar to  dispose the waste of Beirut and Mount Lebanon "will come at a price."
This issue was discussed in a meeting between Saniora and Akkar MPs Hadi Hbeish and Moeen al-Merhebi on Friday.
The two lawmakers also addressed the matter with the Interior Minister.
The minister sought to reassure the residents of Akkar, urging them "against viewing the politicians' proposals as a challenge."
For his part, Hbeish rejected any talk of dumping the waste in Akkar, reiterating the locals' condemnation of the state of negligence in the region.
"It's not enough that it suffers from neglect, but now they are seeking to turn it into a dump instead of allowing it to prosper like over provinces," he lamented.
He called on the government "to take the bold and exceptional decision to treat Akkar equally with other areas regarding development projects that are desperately needed and that can no longer be delayed."
Beirut and the Mount Lebanon area were plunged in a waste disposal crisis following last week's closure of the Naameh landfill without finding an alternative.
Garbage has been piling on the streets of the capital and Mount Lebanon after dumpsters overflowed with tons of trash.
Some people have resorted to burning the waste to tackle the problem amid the government's ongoing failure to find a solution to the crisis.