Venezuela recalls ambassador to Guyana amid territory dispute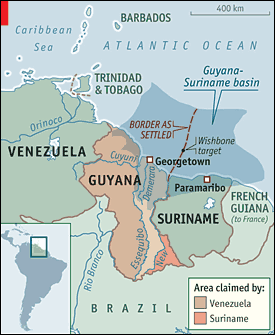 Venezuelan President Nicolas Maduro on Monday said he was calling in the country's ambassador in neighboring Guyana for consultations amid an escalating row over oil exploration in a disputed offshore territory.
The OPEC nation in June demanded that Guyana halt exploration being carried out by Exxon Mobil Corp off the coast of the region known as the Essequibo, weeks after Exxon said it had found oil.
"It takes a lot of patience to process, digest and not vomit when one reads and hears the statements against Venezuela … by the current president (of Guyana)," Maduro said in a speech to parliament dedicated to the issue. He also ordered the foreign ministry to conduct a full review of bilateral relations.
He ruled out the possibility of armed conflict, but described recently elected Guyanese President David Granger as a "hostage of Exxon Mobil."
Exxon, consulted about the issue in the past, has said its policy is to follow host countries' and international law, and that border conflicts are a matter for governments to resolve.
U.N. Secretary-General Ban Ki-moon on Friday offered to help resolve the dispute.
The Essequibo, a sparsely populated region of thick jungle, encompasses an area equivalent to around two-thirds of Guyanese territory. It functions in practice as part of Guyana and shows no discernible trace of Venezuelan influence, according to visitors to the area.
Guyana says Caracas agreed to relinquish the Essequibo following a ruling by an international tribunal in 1899, but that Venezuela later backtracked on that decision.
Venezuela says the 1899 ruling was unfair and insists the territory is still in dispute. Maps in Venezuela usually describe the Essequibo as the "reclamation zone."
REUTERS