Nusra Front stages suicide bombing in Aleppo, Syria : monitor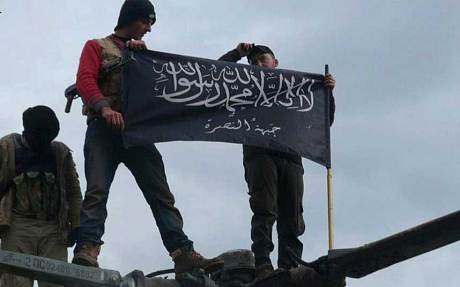 A suicide bomber from Syria's al Qaeda offshoot the Nusra Front ( aka Jabhat al Nusra) blew himself up in a Syrian army outpost in a contested neighborhood in the divided northern city of Aleppo and killed at least 25 soldiers and allied militia and injured scores, a monitor said.
The UK based Observatory for Human Rights, which tracks the violence across the country, said the explosion from the blast was heard across the city where several Islamist-led groups recently launched an offensive to control the remaining western parts of the city in government hands.
Rebel websites said there was heavy bombardment of rebel-held portions of Jamiyat al Zahra district, where rebels had gained ground and brought them closer to the heart of government controlled parts of the city, which was before the 2011 civil war the country's main industrial and commercial hub.
Rami Abdul Rahman, head of the monitor group, said the Syrian army had responded with heavy firepower including aerial bombardment in an attempt to stem the offensive.
The al Qaeda-linked insurgents posted on social media images of fighters from the Nusra Front heading towards the district, which the Syrian army has repeatedly said in recent days had not fallen into insurgent hands.
Syrian television said the Syrian army had foiled an attempt by Sunni extremists to detonate an explosive-laden truck heading towards Jamiyat al Zahra and that it was detonated before reaching its target.
REUTERS