60,000 displaced from Hasaka after ISIS Syria attack: U.N.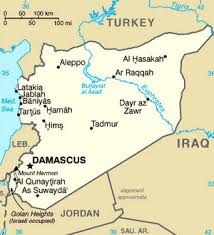 An Islamic State of Iraq and Syria (ISIS) attack on the northeastern Syrian city of Hasaka is reported to have displaced 60,000 people, the United Nations office in Syria said on Friday, warning that up to 200,000 people may eventually try to flee.
ISIS launched an assault on government-held areas of Hasaka on Thursday, capturing at least one district in the southwest of the city, which lies close to the borders with Turkey and Iraq.
Hasaka is divided into zones run separately by the government of President Bashar al-Assad and a Kurdish administration. ISIS fighters also attacked the Kurdish-held town of Kobani, or Ayn al-Arab, in its twin offensive on Thursday.
The U.N. Office for the Coordination of Humanitarian Affairs said an estimated 50,000 people had been displaced within Hasaka city while 10,000 had left northwards towards Amuda town, close to the Turkish border.
Its report on developments on Thursday cited the Syrian government's Department of Social Affairs and local partners. It said the estimated pre-war population in Hasaka was around 300,000 people.
"An estimated 200,000 people may try to flee the city in the coming hours to northern areas of the governorate, most likely towards Amuda and Qamishli," it said. Qamishli is a city around 80km (50 miles) north of Hasaka that sits on the Turkish border.
ISIS said on Thursday it had seized al-Nashwa district and neighboring areas in the southwest of Hasaka, a city divided into zones of government and Kurdish control.
It said humanitarian partners in Qamishli and the Department of Social affairs met on Thursday in preparation for an expected influx of displaced people.
The Syrian Observatory for Human Rights, a UK-based organization that tracks the war, said clashes in Kobani erupted between ISIS militants and the Kurdish YPG militia for a second day on Friday.
Al Arabiya