Even Russia wants Aoun to give up candidacy for the presidency, report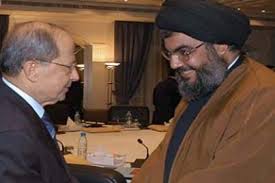 Lebanon's Ambassador to Moscow, Shawqi Bou Nassar, said in a report published in al-Akhbar newspaper on Friday   that Russian Deputy Foreign Minister Mikhail Bogdanov has repeatedly said that Free Patriotic Movement leader MP Michel Aoun should give up his candidacy for the presidency to resolve Lebanon's political crisis.
"Bogdanov was in favor for Aoun to pave the way for other candidates and allow other Christian personalities to announce their candidacies."Bou Nassar was quoted as saying
Aoun should also take the initiative with his allies to guarantee a quorum in the parliament to elect a president, Bogdanov reportedly said.
He stressed that Moscow stands at an equal distance from all political parties in Lebanon and has good ties with all the candidates.
But Russia  which is a key ally of the Syrian regime and Hezbollah wants the election of a consensual president as soon as possible, said the report.
According to Bou Nassar's report, Bogdanov informed deputy Iranian Foreign Minister Hussein Amir Abdul Lahyan during a meeting they held in May that Russian President Vladimir Putin calls for the facilitation of the election of a president.
"Holding onto the candidacy of Aoun is ineffective. It would prolong the vacuum in the presidency," the Russian official told Abdul Lahyan.
"Such a move would reflect negatively on the stability of Lebanon and the interests of Christians," he warned.
Aoun still considers himself a consensual presidential and reportedly told his supporters to mobilize for street protests.
In an interview with al-Joumhouria daily published on Friday , Aoun who is Hezbollah's candidate  was asked whether he thought he was a consensual candidate, he  replied: "Of course."
Earlier this month the Lebanese parliament failed for the 24th time in a row to elect a president to replace Michel Suleiman whose term ended on May 25.
As in the past sessions the parliament was unable to reach a quorum because the Iranian- backed Hezbollah militant group and its ally Aoun's Change and Reform bloc MPs boycotted the sessions.
Lebanese Forces chief Samir Geagea who was the first to announce his presidential candidacy blamed Hezbollah for the vacuum at the country's top Christian post, saying the party has been insisting on backing a single candidate, in reference to Aoun, and not making compromises.
According to media reports Lebanon will not get a president before Iran gets its nuclear deal from the west in June . The reports indicate that Hezbollah is awaiting a green light from its backer Iran before it sends its MPS to the parliament .
The reports stressed that Iran is using Hezbollah and Lebanon's election to put pressure on the west to secure a favorable deal.