Outraged Lebanon army chief warns politicians: Political tension harms security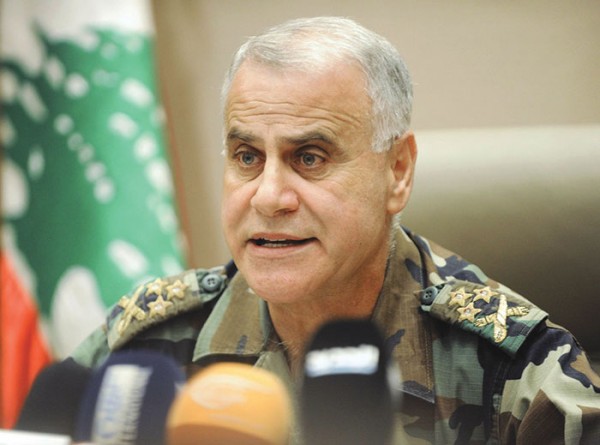 Lebanon Army Commander General Jean Kahwaji expressed outrage  Friday over political tension in the country, saying it harms the institution, in particular the dispute over the appointment of high-ranking security and military officials.
Sources close to the army chief said in comments published in As Safir newspaper that Kahwaji warned that the political rift could distract the military, which is engaged in a combat against terrorism.
He reportedly urged politicians to dissociate the army from their disputes as they would negatively impact the morale  of the troops.
Kahwaji's remarks were made during a meeting with Maronite Patriarch Beshara al-Rahi, As Safir reported.
He called on party leaders to prevent their rift over the appointment of new security and military servicemen from having repercussions on the army, stressing the importance of ending the "phenomenon."
The appointments controversy escalated  recently after Free Patriotic Movement chief MP Michel Aoun has bluntly rejected any attempt to extend the terms of the officials.
He has been lobbying for political consensus on the appointment of   his son-in-law, Commando Regiment chief Brig. Gen. Chamel Roukoz,  as army chief as part of a package for the appointment of other top security officers.
Roukoz's tenure ends in October while the term of Kahwaji expires at the end of September.
"The public dispute tarnishes the image of the military institution," Kahwaji warned, pointing out that the army shouldn't engage in such disagreements at a time when it is confronting one of the toughest challenges.
"Let the army carry out its tasks without disarray and without insulting it… We only want from you (politicians) at this stage to let us assume our responsibilities and protect the Lebanese… We have no business in interfering in any other issue."
He also warned of publicly naming nominees, calling for "taking into consideration the institution's privacy."
"We are not seeking for praise… but at the same time we refuse to allow the institution to become a  daily public affair," Kahwaji remarked, saying: "I am only concerned with fortifying the institution and dissociating it from political rift."
The military commander described the army as the "sole guarantee for stability and security in Lebanon amidst the chaos and terror in the region," wondering why local politicians are targeting the army, which is being praised by foreign powers.
"Discussions on the name of the upcoming military commander should be discreet and away from media spotlight." He said.
He addressed politicians saying: "You can choose whoever you want to lead the army, but stop the lingering farce… I am not holding onto the post."
Kahwaji expressed relief over the security situation in the country, considering it "better than neighboring states… we should know the value of such a blessing and exert efforts to maintain it."