Geagea, Jumblatt reject terrorism, support stability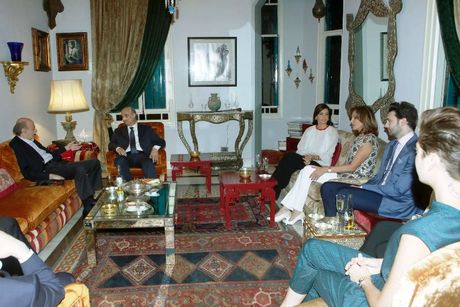 Lebanese Forces chief Samir Geagea and Progressive Socialist Party leader MP Walid Jumblatt called for rejecting  terrorist activities and announced their support for stability, Geagea's press office announced on Friday.
Geagea and his wife MP Sethrida visited Jumblatt in Clemenceau on Thursday night said LF  statement.
The meeting was attended by Jumblatt's   wife Noura, his son Taymour and daughter Dalia ,  Health Minister Wael Abou Faour, his wife Zeina and MP Nehme Tohme,the statement added
They discussed "the political situation in Lebanon and the region and mainly the massacre of Qalb Lawzah in Idlib province in Syria," said the statement.
They stressed "their rejection of these terrorist activities and their keenness on stability and coexistence whether in Syria or Lebanon," it added.
After the meeting, Jumblatt hosted  a dinner banquet in honor of his guests.
Al-Qaida's affiliate in Syria al-Nusra Front massacred dozens of  Druze villagers in Qalb Lawzah on Wednesday. According to  sources in Qalb Lawzah about 40 Druze civilians were killed , including children and elderly  but only 27 have been identified so far
The killings are the deadliest against the Druze Community , which has been split between supporters and opponents of President Bashar Assad since Syria's crisis began in March 2011.