Syrian-Druze community in "existential danger" after Assad failed to protect it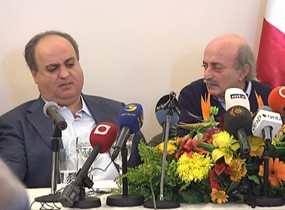 The Druze community worldwide is understandably concerned . In Syria, the Syrian-Druze community relied on Bashar Assad for protection, but with the advances of the al Qaeda linked al Nusra Front and ISIS, the community finds itself in existential danger.
This week, fighters associated with Al-Nusra Front massacred dozens of Druze civilians including children and elderly in Qalb al-Loza, in the Idlib region.
Prominent Druze leaders in Lebanon are calling for aiding the Syrian-Druze community.
Former Lebanese- Minister Wi'am Wahhab, who supports  Assad and Hezbollah , asked for weapons from Assad so the Druze could defend themselves from al-Nusra:
"[The Druze in Syria] are ready to defeat the terrorists, but what they lack is arms. Lebanon's Druze are ready to help, we are ready to form an army of 200,000 fighters to defend the Druze," Wahhab said in a televised speech, urging Assad to provide arms to the community.
Wahab said: "The faithful Druze from all Lebanese regions are ready to fight."
"We will all take up arms, here and elsewhere. Anyone on Lebanese soil who has ties to al-Nusra Front or is collaborating with it is unwelcome," he added.
Assad has reportedly refused to arm the Druze because 27,000 young Druze men refused to join the Syrian army.
Progressive Socialist Party leader Walid Jumblat on the other hand has been calling for calm with the aim of containing the repercussions of the killing al-Mustaqbal daily reported on Friday.
During the meeting that took place on Thursday, Jumblat called for calm to limit attempts to instigate against strife after Wahab asked Assad for arms
Jumblatt, a prominent Druze leader received on Thursday phone calls from top Lebanese officials condemning the massacre.
On Friday, he will attend an emergency meeting for Lebanon's Druze Spiritual Council to draw up a response to the killings.
He is expected to hold a press conference to announce the outcome of the meeting.
Commenting on Wahab's move he told al-Mustaqbal newspaper:
"Such attempts would further drag the Syrian strife to Lebanon and incite the Druze to attack Syrian refugees as a vengeance," they warned.