G7 leaders bid farewell to fossil fuels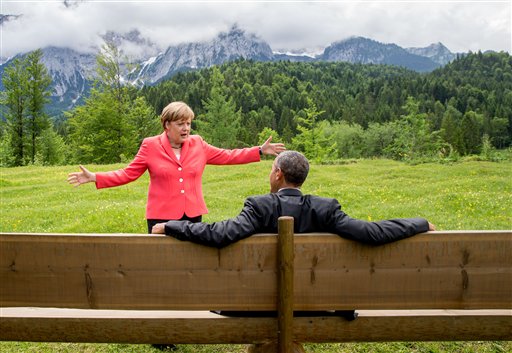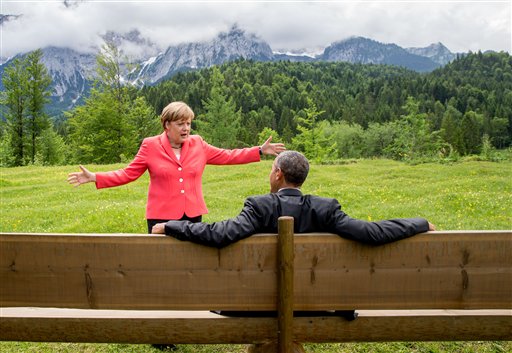 The world should move away from using fossil fuels by the end of this century, G-7 leaders said Monday, setting an ambitious but distant goal ahead of a global conference on climate change this year.
The leaders of seven wealthy democracies also warned Russia that sanctions imposed for its actions against Ukraine would remain until a cease-fire is fully observed in eastern Ukraine — and those sanctions could be made tougher if the situation requires.
German Chancellor Angela Merkel, whose turn it was to host the annual gathering, pressed for a commitment to "decarbonize" the global economy — that is, to eliminate most carbon dioxide emissions from burning oil, gas and coal. While the goal was set for the end of the century, the seven leaders also asserted that "urgent and concrete action is needed to address climate change."
Burning fossil fuels produces carbon dioxide, which traps the sun's heat and warms the atmosphere.
The leaders agreed to press for a reduction, by 2050, of 40 to 70 percent in the 2010 global emission levels of the greenhouse gases blamed for global warming. The range was a disappointment to some environmental activists, but the leaders added they recommended the "upper end" of that range. They also said they would commit to a "transformation of the energy sectors" in their countries to produce fewer carbon emissions.
The word "decarbonization" is used to mean the replacement of carbon-based fossil fuels by alternative sources such as wind and solar power. The term is open to interpretations that include the use of some fossil fuels.
A German government spokesman said that as used by Merkel the word meant "substantial" emission reductions in the next decades and "near zero" greenhouse gas emissions by the end of the century.
Merkel set climate change as a key topic for the gathering, just like she did the last time she hosted it in 2007.
Her goal was to come up with a united stance among the group's advanced economies in order to better advocate for the goals at a much broader conference on how to combat global warming to be held Nov. 30-Dec. 11 in Paris. The thinking was that negotiations with other countries — including major greenhouse gas emitters such as China and India — would be easier if the developed world took a united position.
Ulf Moslener, professor of sustainable energy finance at the Frankfurt School of Finance & Management, said the G-7 statement was "largely a confirmation of what has already been agreed" on climate change. Its chief value was in getting the developed countries on the same page ahead of climate change negotiations with developing countries.
Moslener said the steep reduction implied by Merkel's decarbonization goal does imply substantial change, "though it has to be said it's a rather long time horizon."
Merkel and President Barack Obama devoted much of their one-on-one meeting during the summit to Ukraine, where renewed fighting has broken out in recent days. Western nations and NATO accuse Russia of sending troops and weapons into Ukraine to support pro-Russian separatist fighters, something Russia denies.
A peace deal struck at Minsk in February requires a halt to fighting between the separatists and Ukrainian forces, and heavy weapons such as artillery and rocket launchers to be pulled back from the front line
"There was a lot of consensus with regard to Ukraine," Merkel said. "We agreed that the lifting of sanctions is tied to the implementation of the Minsk peace deal. And we are ready, should the circumstances warrant —which we don't want — to increase sanctions."
Still, G-7 nations aren't totally united on what to do about Russian support for the separatists. Britain and the U.S. have sent limited help to train Ukraine's military, while Germany has rejected military assistance.
Asked about that, Merkel said the meeting reached "no common conclusions."
Obama, at a news conference, said the G-7 leaders had discussed additional steps they could take if Russia were to "double down" on military actions inside Ukraine. But he said those discussions have been taking place "at a technical level, not yet at a political level," and said the first step was for the 28-nation European Union to commit to extending its current sanctions against Russia.
The G-7 statement also condemned Russia's "illegal annexation" of Ukraine's Crimean Peninsula last year.
ASSOCIATED PRESS/ MY WAY