Saudi-led air strikes kill dozens in attack on Yemeni army compound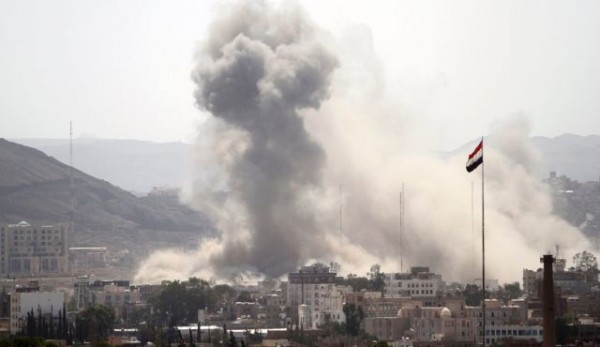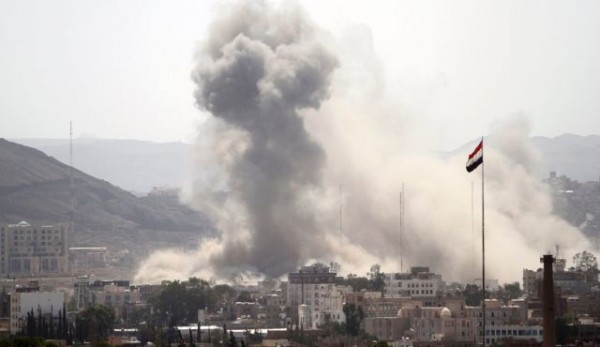 Saudi-led air strikes killed at least 44 people during an air raid on the main headquarters of the Yemeni army in central Sanaa on Sunday, the Houthi-run state news agency Saba said.
The agency said that more than 100 people, including civilians, were also wounded in the attack which also destroyed private houses in Tahrir district in central Sanaa.
Residents had earlier said that four explosions shook the compound, where soldiers allied with the Iranian-backed Houthi group that dominates Yemen had gathered since Saturday evening to get their pay checks.
"More than 44 citizens were martyred and 100 others including women and children, according to preliminary figures," the agency said.
The agency quoted a source at the Health Ministry as saying that rescue teams where working to find people believed to be still under the rubble of houses destroyed by the raids.
The escalation of the violence came despite progress toward convening United Nations-backed peace talks this month in Geneva. The exiled Yemeni government in Riyadh and the Houthis have agreed to attend the talks which start on June 14.
United Nations special envoy to Yemen, Ismail Ould Cheikh Ahmed was in Oman for talks with the Omani minister of state for foreign affairs aimed at preparing for the Geneva meeting, Omani state news agency ONA reported on Saturday. Oman had been mediating efforts to convene the Geneva talks.
Saudi-led forces have been pounding the Houthi group since March 26 in a campaign aimed at restoring President Abd-Rabbu Mansour Hadi to power.
Residents said Saudi-led aircraft also targeted other military camps east and west of the capital but there was no immediate word on casualties.
On Saturday, the Houthis and their army allies fired a Scud missile into Saudi Arabia which the kingdom said it shot down.
It was the first reported use of a ballistic missile in the conflict. The Saudi military said it had targeted the city of Khamees Mushait in the kingdom's southwest and was intercepted by two Patriot missiles.
Arab air strikes and shelling after the attack killed 38 Yemenis in provinces near Saudi Arabia, according to Saba reports which could not be immediately confirmed.
REUTERS