Geagea: Hezbollah is the main obstacle behind the failure to elect a president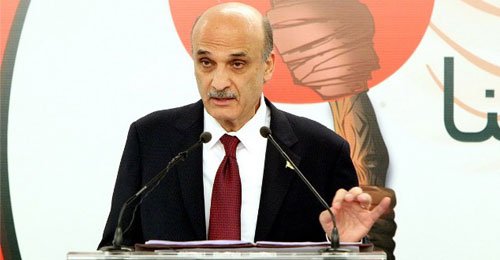 Hezbollah is the main obstacle behind the failure to elect a president in Lebanon, and not an inter-Christian dispute, Lebanese Forces leader Samir Geagea said Friday.
In a speech before hundreds of new Lebanese Forces members receiving their membership cards, Geagea denied the claims that the presidential vacuum is a result of a "Christian-Christian dispute."
He slammed Hezbollah for claiming to be "defending Lebanon in Qalamoun and Syria."
"How should we believe that some are defending Lebanon in Qalamoun and the rest of Syria, Iraq and Yemen, when the same people are disrupting Lebanon in the Baabda Palace, in the heart of Lebanon?" he asked.
"How should we believe that they want a strong president, while they could not stand a consensus president par excellence?"
He also accused Hezbollah of "imposing a battle on the Army in Arsal's outskirts," in order to "serve the interest of non-Lebanese."
Samaha retrial
Geagea also praised the Military Court of Cassation's decision to hold a retrial for former Minister Michel Samaha, who was sentenced to four and a half years after smuggling explosives into Lebanon to carry out bombings and assassinations.
March 14 officials were enraged by the decision, arguing that he got off too easy.
"You did not believe in Lebanon's institutions, laws and state to end up leaving for your children a system of jungle laws that does not hold the wrongdoers accountable, and places a heavy stone on the graves of martyrs," Geagea said.
"Martyred Maj. Gen. Wissam al-Hasan did not fall in cold blood so that Syrian President Bashar Assad and Ali Mamlouk are ruled not guilty, or so that ex-minister Michel Samaha is released with utmost rudeness, while the Lebanese people's blood boils on a hot fire."
Samaha was caught by Internal Security Forces in 2012, after informant Miled Kfoury revealed tapes showing the minister discussing the plots, which were coordinated with Mamlouk, an intelligence aide to Assad.
Hasan, then-head of ISF's Information Branch, was given credit for carrying out the crackdown. He was later assassinated in a bombing in the Beirut neighborhood of Ashrafieh.
Geagea called on the Military Court of Cassation to "erase the stain of shame left by the verdict on Samaha… and to bring back the Lebanese' trust in their state and their belief in law and justice."
"Returning from sin is a great virtue." Geagea stressed