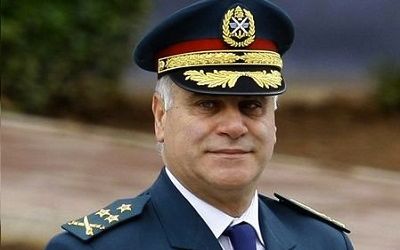 Lebanese Army commander  Gen. Jean Kahwaji vowed on Friday to liberate the  land occupied by Israel and to bring back home the servicemen taken hostage by Islamists .
"We will not despair until we liberate the last inch of our occupied land," Kahwaji said on the occasion marking Resistance and Liberation Day.
The military commander also vowed to preserve the nation's land, people and institutions, expressing confidence in the army's willingness to be honored with such a "noble mission."
Israel continues to occupy the Shebaa Farms area, Kfarshouba hills and the northern part of Ghajar.
Kahwaji  also reiterated that the army would exert all efforts to free the troops and policemen taken captive by Islamists from the northeastern border town of Arsal in August last year.
"We will do all we can to release them and bring them back to their families and institutions," he said.
"After doubts about your ability to confront terrorist organizations, you succeeded in thwarting their sabotaging goals which consolidated the confidence that the Lebanese (people) have in you and … lured friendly countries to provide military assistance to the institution,"Kahwaji  told troops, in reference to 4 billion grant the army received from Saudi Arabia
Qahwaji stressed that "the preservation of coexistence, the commitment to the National Pact and the full loyalty to Lebanon have been the supreme objectives of the institution."
The army proved "its only obsession is to preserve the nation," and that it rejects political disputes and sectarian divisions among its ranks, he said.
He urged troops to remain loyal to such objectives and characteristics, which are "Lebanon's sole protectors" and which "stop enemies from luring them to chaos and disintegration."
Kahwaji also lauded soldiers for being "brave" and preserving stability, "setting an example on national unity, which had always been the reason for the nation's existence as an independent, free and independent state."
This error message is only visible to WordPress admins
Error: No connected account.
Please go to the Instagram Feed settings page to connect an account.