Future Movement trying to convince Aoun to quit the presidential race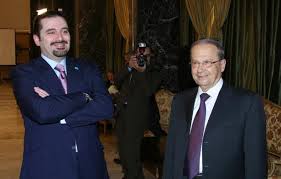 The Future Movement which is headed by former  PM Saad Hariri  is  reportedly  willing to approve   the appointment of Commando Regiment chief Brig. Gen. Chamel Roukoz as army chief if Free Patriotic Movement leader MP Michel Aoun quits the presidential race
Al-Akhbar newspaper reported on Wednesday that the adviser of Future Movement  chief Nader Hariri, informed the aide of Speaker Nabih Berri, Finance Minister Ali Hassan Khalil, that the movement doesn't reject the appointment of Roukoz, Aoun's son-in-law, on condition the FPM chief withdraws from the presidential race.
Sources close to the March 8 alliance told the newspaper that "Future Movement rejects to link the fate of the appointment of a new Internal Security Forces chief with the appointment of a new army commander."
"Future Movement doesn't object to the appointment of Roukoz in case Aoun discards his presidential ambitions."
Conflicting reports emerged recently on whether Hariri agreed on the appointment of Roukoz as army chief.
The reports had said that Hariri informed Aoun about his consent on the appointment of Roukoz as military chief in return for the appointment of head of the Internal Security Force Information Branch Imad Othman as ISF chief.
Aoun has allegedly been seeking to receive political consensus on the appointment of Roukoz as army chief as part of a package for the appointment of other top security officers, but Aoun s denied the reports.
Roukoz's tenure ends in October while army commander Gen. Jean Qahwaji's term   ends in September.
The military posts in Lebanon are suffering as the result of the months-long presidential vacuum .
The Lebanese parliament failed last week  and for the 23rd  time in a row to elect a president to replace Michel Suleiman whose term ended on May 25.
As in the past sessions the parliament was unable to reach a quorum because the Iranian backed Hezbollah militant group and its ally Aoun's Change and Reform bloc MPs boycotted the sessions.
 The vacuum also threatens the Internal Security Forces  as chief Maj. Gen. Ibrahim Basbous is set to retire in June.