Jumblatt: "Hariri was murdered for political reasons"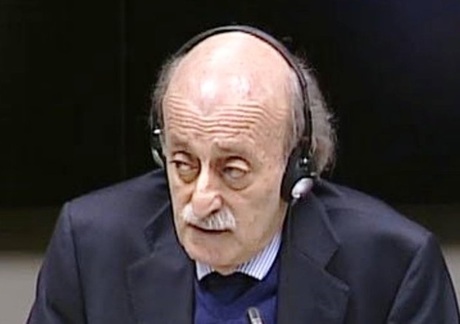 Progressive Socialist Party leader Walid Jumblatt completed his testimony at the Special Tribunal for Lebanon on Thursday.
During his four days of testimony Jumblatt claimed that Bashar Assad was responsible for Hariri's assassination while simultaneously deflecting blame away from Hezbollah. As anticipated , Jumblatt executed an intricate and moderately successful political balancing act throughout his testimony.
Like other political witnesses who have appeared before the tribunal, Jumblatt made repeated reference to the Syrian "stranglehold" in Lebanon at the time of the former premier's assassination.
He went beyond what other politicians have dared to say aloud, accusing Syria outright of bearing responsibility for Hariri's assassination.
Defense counsel Yasser Hassan, who represents one of the Hezbollah members accused of plotting to kill Hariri, neatly summed up Jumblatt's testimony during his cross-examination Thursday afternoon.
"Mr. Walid, for three days of your testimony … you have accused the Syrian regime of being behind the assassination of Rafik Hariri," Hassan said.
"That is correct," Jumblatt responded dryly. "I insist on accusing the Syrian regime."
"Rafik Hariri asked for the Syrian withdrawal [from Lebanon] and they assassinated him."
When pressed, however, Jumblatt admitted that he had no evidence that the regime had a dark hand in the conspiracy. "At no point did I pretend or claim that I have any pieces of evidence, any proof, regarding the assassination of Rafik Hariri," he said.
"I'm giving a political testimony," Jumblatt told the court. "Hariri was murdered for political reasons."
But unlike other Hariri allies who have testified before the court, Jumblatt made no suggestion that Hezbollah had motive to kill Hariri, and endeavored to show that the former prime minister had adopted a pro-Hezbollah stance in the months leading up to his accusation.


Five Hezbollah members have been charged with planning the blast which killed Hariri and 21 others on Feb. 14, 2005. In recent years, Jumblatt has warmed considerably to Hezbollah, saying in public statements that he would "organize" his differences with the resistance party over its intervention in Syria.
He insisted that both he and Hariri were supportive of Hezbollah's right to bear arms in 2005. Hariri was opposed to Resolution 1559, Jumblatt said, because it included an article that called for the disbanding of all militias in Lebanon, including Hezbollah. "He looked at this article … and he considered it to be unacceptable and impossible. We needed another partner with us in Lebanon, and that is Hezbollah," the Druze leader told the court earlier this week.
Jumblatt said he had no evidence tying the five Hezbollah suspects to the crime, and questioned Fouad Siniora's claim that Hariri had uncovered assassination attempts designed by Hezbollah in the past. "Perhaps he told the prime minister [Siniora] about these attempts, but he never told me. I say perhaps," Jumblatt said.
Thursday's defense was eager to throw into relief the history of Walid Jumblatt's shifting political alliances and brassy public speeches. A clip of a 2007 speech in which Jumblatt called Assad "a whale vomited out of the ocean," was played before the court, along with a 2010 interview in which he appears to apologize for the remark following a trip to Damascus.
Jumblatt shrugged (and sometimes chuckled) off the criticism, agreeing with a judge who suggested that "realpolitik" had dictated his decision-making over the years.
Jumblatt also dismissed claims that Saudi Arabia had pushed Hariri to become a politician as a result of a conflict with Syria.
"Hariri was an ambitious man and it was his right to enter the political scene in Lebanon," said the MP on the fourth day of testimony.
"Saudi-Syrian ties were excellent until Hariri's assassination," he added.
Jumblatt also denied that the amendment of the Lebanese constitution and the approval of the Taef Agreement in 1989 was a Saudi demand.
It came as a result of a "Lebanese demand to restore the internal balance. It was not a Saudi or Syrian demand," he told the Trial Chamber.
"The Taef Accord came as a result of a deal between the Lebanese, the Saudis and the Syrians," he added.
The PSP chief told the court that the Syrian presence was aimed at implementing the Taef but it later turned into a hegemonic power.
"The majority of Sunnis in Lebanon are moderates," he said, describing the Future Movement, which is now headed by Hariri's son (former PM Saad Hariri) as a "moderate"