Geagea urges businessmen to safeguard Interests of Lebanese Expats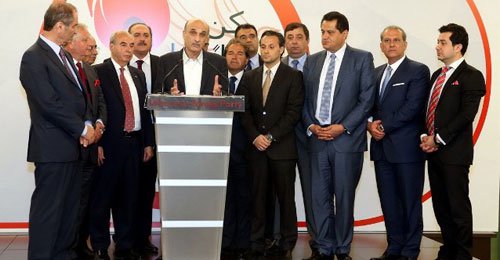 Lebanese Forces leader and presidential candidate  Samir Geagea urged the  Lebanese business community to safeguard the interests of the  Lebanese expatriates , expressing concern over the Iranian-backed  campaign targeting Saudi Arabia and its repercussions.
Following  a meeting with a delegation from the Lebanese Business and Investment Council in Saudi Arabia  Geagea stressed that that efforts  are ongoing to reduce any harm targeting Lebanese expatriates  in any  country.
The gatherers discussed the challenges facing expats in the Gulf due to a "campaign of falsifications," targeting in particular Saudi Arabia.
"Businessmen are concerned… they don't understand the reason behind the verbal assault as it doesn't match the kingdom's hosting of a large number of Lebanese," Geagea stressed
Geagea urged  Lebanese politicians not to harm the interests of the Lebanese expats .
Hezbollah and its backed Iran have been recently directing a barrage of criticism against  Saudi Arabia over its airstrike campaign targeting the Iranian backed Yemen's Shiite Houthi rebels.
Hezbollah  officials have warned Riyadh that it would be defeated and would pay a heavy price for its attacks.
There are around 500,000 Lebanese expats in the Gulf.
Last month, the UAE, which hosts 100,000 Lebanese workers, expelled dozens  expatriates, mostly Shiites.
In 2009, dozens of Lebanese Shiites who had lived in the UAE for years were  also expelled on suspicion of links with Hezbollah
In 2013, Qatar deported 18 Lebanese nationals after the Gulf Cooperation Council decided to impose sanctions against Hezbollah for its military intervention in war-torn Syria to support President Bashar Assad.
Gulf is life support for Lebanon
Chairman of the Lebanese Chamber of Commerce Mohammed Choucair, warned  on April 20 of grave consequences for the Lebanese economy if the verbal campaign against Saudi Arabia continues.
Choucair did not name the Lebanese agents behind this campaign explicitly, but was clearly hinting at Hezbollah, which has lashed out at the kingdom over Saudi-led airstrikes on Yemen.
Choucair stressed that thousands of Lebanese will be at risk of losing their jobs if this campaign against Saudi Arabia does not come to an end soon.
"How can some target Lebanese-Saudi relations? They need to remember that Lebanon would have starved to death if it wasn't   for Lebanese remittances from Saudi Arabia and the rest of the Gulf states," he said.
Choucair estimated that more than half  of the annual  ( $8 billion ) remittances come from Saudi Arabia , $2.6 billion from the rest of the GCC states and $1.4 billion from the rest of the world.
Prime Minister Tammam Salam not only distanced himself from Hezbollah's position but also fully backed Saudi Arabia.
Choucair emphasized that Saudi Arabia did not even suggest that it would penalize Lebanon or threaten to sever ties.
"Saudi Arabia would never make a decision just to harm the Lebanese economy. Neither Saudi Arabia nor the Gulf states have called for the deportation of Lebanese people, unless the individuals are wanted for security reasons, as in the case of those 200 recently deported," he added.
Choucair made the statement as he headed a delegation on a Gulf tour that would include Qatar, Dubai, Abu Dhabi and Saudi Arabia.
He said the delegation would explore the possibility of establishing joint Lebanese and Gulf ventures, including joint investments in Africa.