Bodies of 6 Sunni family members found dumped in Baghdad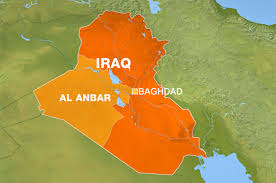 The bodies of six displaced Sunni men were found dumped in the Iraqi capital Baghdad early on Tuesday with bullet wounds to the head, police sources and the head of the tribe to which they belonged said.
The identity of the assailants was unknown, but the victims were all members of the same family who had fled violence in the western province of Anbar and sought refuge in Baghdad's western Jihad district.
"Yesterday at midnight a group of men dressed in black with their faces hidden by balaclavas and masks knocked on the door and threatened the family to leave immediately," Sheikh Naim al-Gaud, the head of the Albu Nimr tribe, told Reuters.
"At five in the morning they came and executed them in cold blood, and even took what money and gold jewelry they had."
Two men survived because the gunmen left them for dead, and have been hospitalized in a critical condition, an aide to the tribal leader said.
Hundreds of members of the Albu Nimr tribe were killed by Islamic State fighters in October when the militants seized control of the Anbar town of Hit, about 150 km (90 miles) west of Baghdad.
Islamic State renewed its offensive in Anbar early this month, driving more people to seek refuge in the capital where mosques and households have opened their doors to them. But the new arrivals have been met with hostility by a minority who see them as a security threat in the mainly Shi'ite city.
Police also found two bodies dumped by the side of a road in the Amil district of Baghdad on Tuesday but their identity was unclear.
Separately, the relatives of an Iraqi staff member of the United Nations who was kidnapped over the weekend in the eastern province of Diyala received a call demanding a ransom of $100,000 for his release, security sources said.
UN spokeswoman Elaine Nabaa said the man had been abducted by unidentified gunmen on Sunday afternoon and taken to an "unknown destination".
REUTERS