U.S. plan for training Syrian rebels already mired in doubt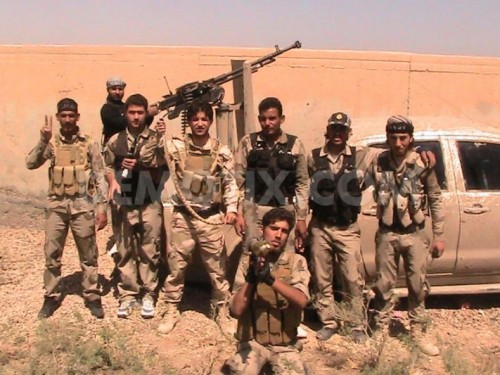 Hundreds of Syrian rebels are approaching the start of U.S. training to battle Islamic State, without knowing whether or how Washington would come to their aid on the battlefield and as other rebel leaders say the proxy army could spark opposition infighting.
The U.S. plan to train and arm a force that is expected to eventually total more than 15,000 troops and to get underway in the coming weeks is a major test of President Barack Obama's strategy of engaging local partners to combat extremists.
But administration officials are already scaling back expectations of its impact and some rebel leaders say the force risks sowing divisions and cannot succeed without directly targeting Syrian government forces.
Senior U.S. officials said Obama has not yet decided how extensively and under what circumstances Washington will back the force militarily – a commitment that would risk the very entanglement in Syria that Obama has long sought to avoid. Senior U.S. military officials say protecting the forces will be vital to drawing new recruits and ensuring the success of the program.
The hardline Sunni Muslim Islamic State movement has seized swathes of Syria and Iraq and proclaimed a caliphate.
In the face of its brutal offensive through northern Iraq last June, Obama asked Congress for an initial $500 million to "train and equip" Syria's opposition fighters, whom he later described as "the best counterweight" to Islamic militants and a key pillar in his campaign to defeat them. The total request so far is $1.1 billion.
Ten months later, it is just getting off the launch pad.
U.S. officials say several hundred U.S. and coalition personnel are preparing to start training, initially at sites in Jordan, Turkey, and later in Saudi Arabia and Qatar. The sessions, which were originally expected to start in March, will cover everything from the rules of war to small-arms skills.
The plan reflected the priorities of a president reluctant to get entrenched in another Middle East conflict, but who needed a ground force to complement U.S. air strikes against Islamic State in Syria. Congress approved it last year with two primary goals: to fight Islamic State and boost the chances of a negotiated settlement in the Syrian war by raising pressure on President Bashar al-Assad's forces.
Opposition fighters and some of their backers, including Turkey and Saudi Arabia, say the plan will only succeed if it focuses more directly on fighting Assad's forces and allied militias.
"For Syrians, the biggest motive is to stop the killing, and the biggest killer is the regime," said Abu Hamoud, head of operations at Division 13, a non-Islamist opposition brigade which has received training under a separate CIA-led program.
While fighting Islamic State may be the priority in eastern Syria, the same is not true elsewhere in the country, according to Abu Majid, commander of the Fursan al Haq brigade which has also been helped under the CIA operation launched last year.
"It's a matter of priority. People in the east are suffering most from Islamic State. In our area, we are suffering from the regime," he said.
Part of the U.S. strategy, according to Obama administration documents seen by Reuters, is to pressure Assad by steadily increasing the opposition's prowess and territory under control.
But the documents acknowledge that the U.S.-trained rebel force's impact is likely to be modest – at least initially.
"Even when considered as a whole, U.S. government assistance to the moderate armed opposition will not be decisive in defeating regime forces," the State Department wrote to Sen. John McCain, the Senate Armed Services Committee chairman, in March.
"Nor will the fighters who receive this assistance, on their own, force Assad to change his calculus about trying to hold on to power," the letter states.
Obama has also yet to announce whether he will go beyond resupplying and financing the proxy force, and protect them with U.S. fighter jets if they clash with Assad's forces. The United States is already conducting near daily air strikes against Islamic State targets in Syria and Iraq.
Assad, in a January interview with Foreign Affairs magazine, said his army will fight the "illegal" U.S.-backed rebels.
U.S. military officials favor defending them. Army Gen. Lloyd Austin, commander of the U.S. military's Central Command, told a Senate committee last month that he recommended U.S. protection for the force against all adversaries.
"Currently," he added, "that decision has not been taken."
RELUCTANT INTERVENER
Obama has been reluctant to intervene in Syria since the anti-government revolt there erupted in March 2011.
He turned down an earlier proposal in summer 2012, backed by virtually all his top security advisers, to arm moderate Syrian rebels. And after Assad crossed Obama's "red line" and used chemical weapons, the U.S. president opted against a military response, instead negotiating a deal with Russia to remove Syrian stockpiles of advanced chemical arms.
About $143 million of this year's $500 million budget for the proxy force has been spent on weapons, ammunition, equipment and other items, the Pentagon told Reuters.
A Pentagon report to Congress suggested the training mission could expand greatly this year, but would be conducted by "fewer than 1,000" U.S. military personnel.
The goal of the program is to train up to 5,400 recruits a year, the Pentagon says. Already, more than 3,000 Syrian candidates have volunteered for the train and equip program and are in various stages of screening and vetting, it says.
Once they are back fighting in Syria, the rebels "will require persistent replenishment of critical supplies," the Pentagon report says. The Pentagon plans to resupply them with equipment and munitions, and provide rebel leaders with cash stipends.
Adnan al Najjar, general military commander of Farouk brigade which has fighters across Syria, said his group had been invited and that he had been told training would start in July, although he did not know how many of his men would take part.
"Most of our fighters are normal guys, civilians, or defected soldiers who don't have full experience, so they would benefit from the training," he said, a brigade flag stretched over his office window in the Turkish border town of Reyhanli.
U.S. officials have made clear that fighters taking part in the program will be strictly vetted to prevent U.S. weapons falling into the hands of Islamist groups such as Ahrar al-Sham or al Qaeda offshoot the Nusra Front.
But a senior opposition commander from Islamic State-controlled Deir al-Zor in eastern Syria said that could result in fighters with the most front-line experience against Islamic State being left out.
"When the Americans see anyone shout "Allahu Akbar!" they think they're Islamists," he told Reuters, speaking on condition of anonymity because his family still lives in areas controlled by the Sunni militants.
RISK OF INFIGHTING
As Islamist groups cement their hold on the north just over the border from Turkey, it could become increasingly difficult to attract battlefield recruits who meet the U.S. criteria.
Idlib, a short drive from the Turkish border, became only the second provincial capital to fall to insurgents in the four-year-old war when it was captured last month by an alliance of Islamist groups including Nusra.
Such groups could turn on fighters trained by the United States and their allies if they are focused solely on Islamic State, according to Abu Omar, a fighter with the Liwa Ahel al Sham brigade who said he had received U.S. training in Jordan.
"You can't throw a man who can't swim into the sea and ask him to swim," he said. "They have to be well-trained to fight all the threats."
Some of the most powerful opposition factions are not supported by the United States and complain that the West has a history of choosing poor allies.
"There is a problem of confidence in the people who are trained abroad. There is little confidence in them," said Islam Alloush, spokesman for Jaysh al-Islam, a major Islamist brigade active around Damascus and northern Syria.
REUTERS