Iranian supreme leader urges troops to prepare for war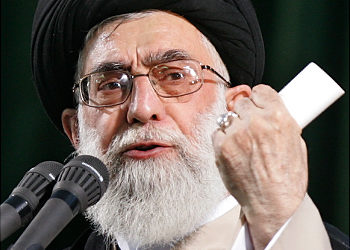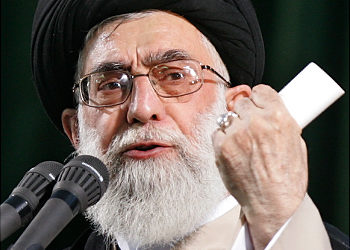 Iran's supreme leader Ayatollah Ali Khamenei on Sunday said allegations that the country was trying to develop nuclear weapons were a myth, and pointed to the U.S. and Israel as the real threats to security in the Middle East.
The remarks were delivered on the occasion of Iran's annual Army Day, where Mr. Khamenei exhorted troops to increase their defensive preparedness. The speech reflected the tense state of ties between the Iranian leadership and the U.S. While Mr. Khamenei often rails against the U.S. and Israeli hegemony, the rhetorical barbs have remained sharp even after Iran and six world powers agreed to a preliminary nuclear deal early this month.
"They fabricated the nuclear weapon myth to say that the Islamic republic is a threat," Mr. Khamenei said, according to his official website. "No! The threat is the U.S., which commits insecurity-causing interference without any control."
The U.S. and Israel, he said, both acted without any regulations and "meddle in any place they find necessary."
The U.S. State Department couldn't immediately be reached for comment on Mr. Khamenei's comments.
Western countries have long alleged that Iran's nuclear-development activities aimed to produce a nuclear weapon. Iran always has insisted that its activities are for peaceful purposes.
Under a framework deal struck earlier this month, Iran must shut down thousands of uranium-enrichment centrifuges and convert some enrichment facilities into research centers, according to the U.S. government. But since then, important differences have emerged between Iran's and the U.S.'s interpretation of its terms.
Mr. Khamenei, who has final say over most matters of state in Iran, introduced two new red lines on April 9, saying Iran wouldn't allow inspections of military sites and insisting that all sanctions must be removed in one go once the final accord is signed.
If finalized by a self-imposed June 30 deadline, the deal—a foreign-policy priority for President Barack Obama—would constrain Iran's nuclear activities and subject them to international oversight. In exchange, economic sanctions imposed by the U.S., European Union and United Nations would be eased.
The U.S. and the other powers in the talks—China, France, Germany, Russia and the U.K.–are unlikely to accept a deal that prohibits inspections of military sites, as some of the country's key nuclear facilities are located on current or former military bases.
The U.S. also has insisted that sanctions only would be withdrawn in stages and would be subject to snapback provisions if Iran doesn't comply with its obligations under the agreement. Mr. Obama underlined that position Friday after a meeting with Italy's prime minister.
In his speech Sunday, Mr. Khamenei said Iran was constantly under threat of military action and wasn't even given ample scope to defend itself. In the wake of the framework nuclear deal, Russia recently lifted a self-imposed ban on the delivery of the S-300 missile-defense system to Iran. If installed, its presence would complicate any effort to strike at Iranian nuclear facilities.
"The other side rudely threatens us with military action constantly," Mr. Khamenei said Sunday. "And it goes further, saying the Islamic republic shouldn't have defensive capability."
WSJ