Army chief lauds Saudi Arabia's Staunch Support to Lebanon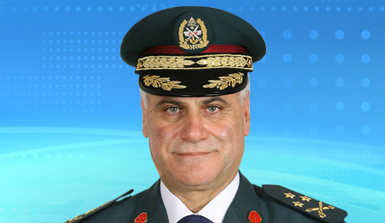 Army Commander General Jean Kahwaji hailed on Sunday the efforts exerted by Saudi Arabia to safeguard Lebanon.
"On behalf of myself and the Lebanese people I would like to thank the kingdom" for its grants to the Lebanese army," Kahwaji said in comments published in the Asharq al-Awsat newspaper on Sunday.
"The aid will develop the capabilities of the Lebanese army and increase its readiness to combat terrorism and defend its border… which will improve the situation," Kahwaji stressed.
Kahwaji confirmed that French Defense Minister Jean-Yves Le Drian will deliver on Monday the first batch of arms to the Lebanese army under a Saudi financed deal.
Saudi Arabia and France inked the $3 billion arms deal in Riyadh last November.
The deal also includes training programs for the Lebanese army run by the French military.
It aims to boost Lebanon's military as it struggles to contain the rising tide of violence linked to the civil war in neighboring Syria.
In August, the kingdom also granted another $1 billion in funds to allow the army to purchase supplies immediately.
Asked about Nasrallah's recent campaign against Saudi Arabia over its offensive against Shiite Huthi rebels in Yemen, Kahwaji refused to comment.
"The time is not currently right to respond to the insults issued by Nasrallah against Saudi Arabia and the Gulf countries," the military commander said.
In a televised speech on Friday, Nasrallah launched his harshest criticism yet of Saudi Arabia, blaming the kingdom for the spread of extremist ideology in the Muslim world and the killing of civilians in Yemen.
He told hundreds of supporters at a rally in Beirut southern suburbs organized in support of Huthis that Saudi-led airstrikes targeting them have not led to victory.
Since March 26, the Saudi-led coalition has been pounding the rebels and allied fighters loyal to Yemen's ousted President Saleh.
Nasrallah said that the kingdom will soon realize that "the only choice left" is a ground operation in Yemen — a "ground invasion will be costly and will end with a defeat."
Both the Shiite Houthi rebels and Hezbollah are backed by Iran.