Geagea warns against destabilizing the Arab and regional security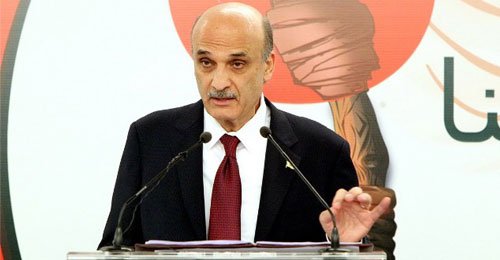 Lebanese Forces leader and presidential candidate Samir Geagea slammed parties that consider Lebanon part of a broader empire thus prolonging the presidential vacuum because it serves its strategic goals.
"The sides are not only paralyzing the Lebanese Republic, but also destabilizing the Arab and regional security by creating armed groups," Geagea said in a clear reference to the Iranian backed Hezbollah militant group.
Tensions between Saudi Arabia and Hezbollah escalated in the wake of Saudi Arabia's Arab-backed military operation against Yemen's Iranian-backed Shiite Houthi rebels. The air campaign, launched in late March, is aimed at defeating the rebels and restoring power to President Abderabbo Mansour Hadi.
Geagea didn't name the sides he is targeting with his statement, however, he stressed his full support to the establishment of a joint military force that would be capable of defending the "righteous Arab causes and combating terrorism."
The Arab summit in March agreed to establish a joint military force .
Egyptian President Abdel Fattah al-Sisi announced the accord at the end of the summit he hosted in the resort of Sharm el-Sheikh, setting a four-month timeframe for the 22-member Arab League to decide on the composition and rules of engagement of the joint force.
Geagea warned against any attempts to undermine the stability, security and sovereignty of certain Arab countries.
Parliament failed again
The Lebanese parliament failed earlier this month and for the 21st time in a row to elect a president to replace Michel Suleiman whose six-year term ended on May 25th last year.
As in the past sessions the parliament was unable to reach a quorum because the Hezbollah militant group and its ally MP Michel Aoun's Change and Reform bloc MPs boycotted the sessions.
Hezbollah reportedly wants Aoun to be the consensus candidate , but the majority of the parliament members do not consider him a consensus candidate, mainly because of his alliance with Hezbollah , Iran and Syria.
Aoun said last month that he supports Hezbollah intervention in Syria and assured a pro Hezbollah newspaper that he was an integral part of the so called axis of resistance (Iran-Syria-Hezbollah).
"I am definitely in the axis of the resistance against the ISIS and Israel," Aoun told al-Akhbar newspaper on March 10.
Geagea who was the first to announce his candidacy accused Iran of being behind the presidential vacuum in Lebanon