Saddam's right-hand man Douri feared until last moment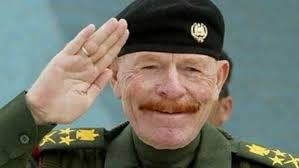 Ezzat al-Douri, the right-hand man to late Iraqi President Saddam Hussein who was reportedly killed, rose from an ice block seller as a boy to one of the country's most feared men.
The governor of Iraq's Salahuddin province said on Friday that Douri, who was Saddam's last man standing after the U.S. invasion, was killed in a military operation.
The pan-Arab television network al-Arabiya showed a photo of a dead man, who looked similar to al-Douri, one of the former Iraqi president's most trusted aides.
Born in 1942, Douri was a top official in Saddam's Baath Party and has been declared dead several times before.
After the 2003 invasion, he was ranked sixth on the U.S. military's list of 55 most wanted Iraqis and a $10 million reward was offered for his capture. U.S. officials accused him of organising the insurgency that peaked in 2005-07.
He evaded capture during the long U.S. occupation as other Saddam aides were killed or put on trial and sectarian civil war engulfed the country.
The mere sight of Douri, a wiry man with a red moustache who often wore a military beret, terrified Iraqis who endured what was known as the Republic of Fear.
After Douri's long absence, Iraqis suddenly heard what appeared to be the voice of a man who played a role in many of the worst atrocities against Shi'ites, Kurds and Sunnis.
A purported audio message from Douri called on all Iraqis to join efforts to "liberate" the country.
This time Douri seemed to be on the side of Islamic State, and he praised the Sunni militants who seized large parts of the country and eventually declared a caliphate.
Although elderly and reported to have been in poor health, Douri was believed to be the leader of the Baathist militant group the Naqshbandi Army, one of several groups said to have supported Islamic State.
Some analysts speculate that shortly after going into hiding Saddam Hussein set up an insurgency, deploying his most trusted aide Douri and others to plot the return of the secular Baath.
But divisions between Baathists sabotaged those ambitious plans, the analysts said, and Douri saw an opportunity in Islamic State militants who possessed heavy weapons and tanks.
"Join the ranks of the rebels who liberated half the country," said the voice on the recording, which resembled previous tapes released in Douri's name.
"The liberation of Baghdad is around the corner. Everyone should contribute, to the extent of his ability, to complete the liberation of the beloved country, because there is no honour or dignity without its liberation".
Douri has been described as the mastermind of the insurgency against the Shi'ite-led government. But no solid evidence of that has emerged and there were also signs that the alliance of convenience was short-lived.
Within three weeks of taking control of Mosul, Islamic State militants began arresting senior ex-military officers and members of the Baath, residents and relatives said.
An intelligence official in the interior ministry said he believed Baathists, including Douri, had provided funding to Islamic State, but had ultimately been superseded by the radical jihadists.
"In the beginning of 2014 and since military councils (Baathists) and Daesh (Islamic State) had a temporary marriage. It was a one night stand," he said.
"The Baathists thought they could use Daesh to reach Baghdad, but the radicals used the Baathists to be acceptable and win over the people."
Other Iraqi officials say, however, that former military officials once ruled by men like Douri acted as advisors to Islamic State who followed Saddam's playbook of assassinations and torture to deal with opponents.
Mosul residents say Islamic State has cells and spies everywhere, much the same way the Iraqi state operated under officials like Douri.
Douri was one of the main plotters of the coup that brought the Baath Party to power in 1968. He quickly rose through its ranks.
In 1998, he escaped an assassination attempt in the city of Kerbala, home to may of the majority Shi'ites he repressed.
His luck appeared to run out when Iraqi security forces surrounded an area after receiving information that "terrorists" were there, according to Salahuddin Governor Raid Jubbori.
"Three of them were suicide bombers and blew themselves up. Amongst the bodies was Douri's," he told Reuters.
Reuters