Obama intends to remove Cuba from terrorism list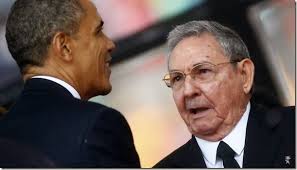 President Barack Obama told Congress on Tuesday he intends to remove Cuba from a U.S. list of state sponsors of terrorism, clearing the way for restoring diplomatic relations and reopening embassies shut for more than half a century.
Obama and Cuban President Raul Castro sat down at a Western Hemisphere summit in Panama on Saturday for the first meeting of its kind between U.S. and Cuban leaders in nearly 60 years.
Cuba's communist government had flatly demanded removal from the U.S. blacklist as a condition for normal relations between the two former Cold War foes. Obama ordered a review of Cuba's status after he and Castro announced a diplomatic breakthrough on Dec. 17.
Cuba was placed on the list in 1982 when it was aiding rebel movements in Africa and Latin America. But Havana long ago said it had ceased the policy of supporting foreign insurgencies. Presence on the list, however, has continued to limit its access to international banking and overseas financial markets.
U.S. Secretary of State John Kerry said in a statement welcoming Obama's decision that "circumstances have changed since 1982," when Cuba was listed "because of its efforts to promote armed revolution by forces in Latin America."
In his report to Congress, Obama certified that "the government of Cuba has not provided any support for international terrorism during the preceding six-month period," and "has provided assurances that it will not support acts of international terrorism in the future."
Congress has 45 days to consider Obama's decision before it takes effect, but lawmakers cannot stop it unless both chambers approve a joint resolution, a move that is highly unlikely.
Many of Obama's fellow Democrats hailed his decision and some experts said it was long overdue.
But U.S. Senator Marco Rubio, a Cuban-American lawmaker from south Florida and newly announced Republican presidential candidate, denounced it as a "terrible" decision, saying Cuba was helping North Korea evade sanctions and harboring fugitives from American justice.
The fugitives include Joanne Chesimard, wanted in the slaying of a New Jersey state trooper in the early 1970s.
Republican U.S. Representative Mario Diaz-Balart, another Cuban-American lawmaker from Florida, accused Obama of "capitulating to dictators."
There was no immediate comment from the Cuban government.
BANKS CAUTIOUS
Obama could have announced his intention to lift the terrorism designation and move forward on restoring diplomatic relations at last weekend's summit.
But U.S. officials privately said they saw the issue as leverage in broader normalization negotiations. For their part, the Cubans at first resisted formal assurances renouncing terrorism, as required by U.S. law for delisting, according to U.S. officials.
Cuba's removal from the list will ease certain economic sanctions on the island, but the broader U.S. embargo on Cuba will remain in place because only Congress can end it.Iran, Sudan and Syria remain on the list.
Some experts said U.S. banks would remain cautious for now. "Banks are certainly watching for further developments but the Cuban government has a lot more steps to take until the industry can take action," said Rob Rowe, vice president of the American Bankers Association.
The two countries have made headway toward an agreement on embassies. A U.S. official expressed optimism but added, "We're still not quite there yet." Among the unresolved issues is a U.S. demand for freedom of movement for its diplomats.
Cuba's human rights record still draws criticism from Washington, and Havana has shown little if any sign of political reform.
"We will continue to have differences with the Cuban government," the White House said.
Geoff Thale of the Washington Office on Latin America, a private group that promotes democracy in the hemisphere, said: "Taking Cuba off the list of terrorist states is a sensible, and long-overdue step."
Cuba was added to the list at the height of the Cold War when it was aiding leftist insurgencies such as the FARC rebels in Colombia. The most recent State Department report in 2013 also accused Havana of providing "safe haven" to Basque ETA separatist guerrillas but said its ties had become more distant to the group, which last year pledged to disarm.
Cuba is now promoting peace talks between the Colombian government and the FARC.
Reuters