Rebels in Syria bombard government-held part of Aleppo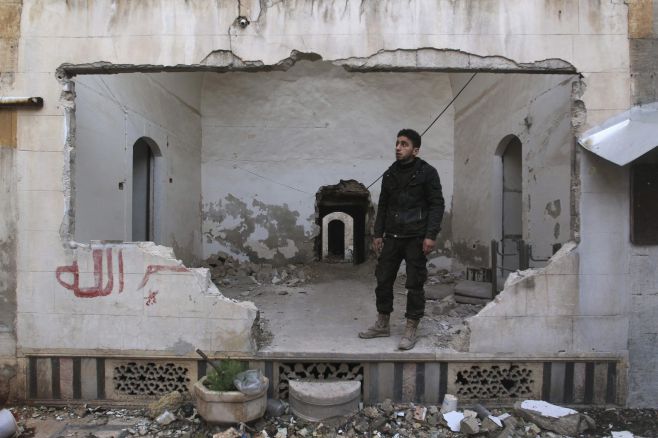 Insurgents bombarded a government-held part of Syria's second city Aleppo overnight, killing at least eight people, Syrian state media reported.
The Syrian Observatory for Human Rights, a UK-based group that tracks the war, said eight people were killed in an air strike by government forces in a separate, rebel-held part of the city.
Aleppo, near the Turkish border, is a major frontline in the Syrian war. Rebel groups in and around the city have repelled repeated attempts by the Syrian army and militia fighting with it to cut supply lines from Turkey to the rebels.
State TV broadcast pictures showing heavily damaged buildings, some with their facades torn off, and streets strewn with rubble in the Suleimaniyah district of government-held Aleppo.
State media put the confirmed death toll at eight and said dozens more people were trapped under rubble. The Syrian Observatory for Human Rights put the number of dead at five and said the number was likely to increase.
Syria's Grand Mufti Ahmed Badr al-Din al-Hassoun, a stanch ally of the Syrian regime , speaking on state TV, urged the complete destruction of insurgent-held areas from which shells were being fired.
"We inform the civilians there, be they supporters (of the insurgents), or not, to leave the area. Every area from which a shell is fired, should be completely destroyed," he said.
State news agency SANA described the insurgents behind the attack as hardline Islamist militants "linked to the Erdogan regime", a reference to Turkish President Tayyip Erdogan who wants to see President Bashar al-Assad removed from power.
Rebel-held parts of Aleppo have faced regular air strikes by the Syrian military. A U.N. commission of enquiry on Syria has recorded the intense use of barrel bombs – improvised bombs dropped by helicopter – by government forces in the city.
The Observatory said dozens more people had been wounded in Saturday's air strike in the Maadi district of Aleppo and the death toll would likely increase.
Insurgents have also made use of improvised shells to bombard government-held areas. So-called "hell cannons" fire shells comprising a cooking gas cylinder. It was not clear what type of weapon had been used in their latest attack.
Reuters