Hezbollah slams PM Salam's remarks at Arab summit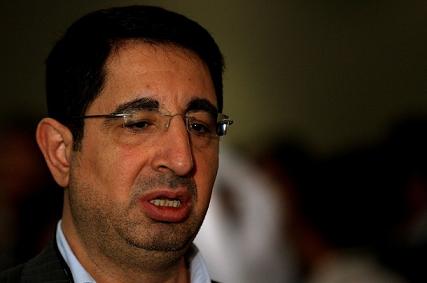 Industry Minister Hussein el- Hajj Hassan who represents Hezbollah in the cabinet slammed on Monday Prime Minister Tammam Salam's remarks at Arab summit and said they do not represent the views of the Lebanese government.
" The PM 's stance was not discussed or sanctioned by the cabinet and his remarks do not reflect the viewpoint of all Lebanese." The Hezbollah minister said
He added that the PM's position towards the intervention during the Arab League summit in Sharm el-Sheikh Saturday "justified… an aggression" against the Yemeni people, the minister said in a statement released by his party's media office.
He also criticized Salam for offering support to the Egyptian proposal to create a joint Arab force to counter terrorism.
"These two positions were not discussed in the Cabinet," Hajj Hassan stressed. "Salam's remarks express the position of a portion of the Lebanese and do not reflect Lebanon's official position."
The industry minister noted that he would raise his objections to Salam's comments during the next Cabinet meeting scheduled for Thursday.
Salam at the summit stressed Lebanon's dissociation policy but said Beirut supported any move that preserves Sanaa's "sovereignty and territorial integrity."
"Out of its keenness on supporting constitutional legitimacy in Yemen, Arab unanimity and the unity and stability of all Arab states,Lebanon announces its support for any Arab stance that preserves Yemen's sovereignty and territorial integrity in addition to the cohesion of its social fabric," Salam told the summit.
"This is a natural stance that stems from Lebanon's Arab belonging and its keenness on the unity of the Arab nation and its ability to confront the challenges it is facing," Salam told several newspapers published on Monday.
Hassan's comments come three days after Hezbollah chief Hasan Nasrallah blasted Saudi Arabia over its intervention in Yemen, saying the Sunni kingdom has abandoned the Palestinians and does not care to oppose Israel.
Nasrallah rejected Riyadh's claim that it had assembled a coalition to conduct airstrikes against Shiite Houthi rebels in order to save Yemen, an operation named "Decisive Storm."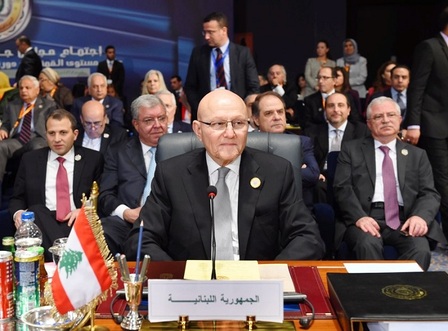 "All that has happened in our region for years did not require Saudi intervention, so why does the current situation in Yemen require such intervention?" he asked. "You say the new situation in Yemen threatens your national security – do you not sense the threat posed by Israel, which possesses one of the strongest armies in the world? The meaning of this is that to these people Israel is not an enemy or a threat that requires such a 'storm'."
He said that ever since Israel was created in 1948 "there has been no decisive storm or even a decisive breeze" to help the Palestinians.
"The Arabs – Saudi Arabia and the Gulf states in particular – have abandoned the Palestinian people and left the field clear for Israel to carry out murder and deportation, and for the United States to search for a diplomatic solution that is an illusion," he said.
Nasrallah on the other hand praised Iran's help to the Palestinians
"They have money, so why do the Palestinian people live in poverty?" He said adding " Iran has answered the Palestinians' call for help and gave all the financial, military, and diplomatic support."
The Saudi-led airstrikes in Yemen will continue until the Iranian backed Shiite rebels there "withdraw and surrender their weapons," a summit of Arab leaders decided Sunday, as they also agreed in principle to forming a joint military force to contain and deter Iran.
Mahfoud calls on Hajj Hassan to resign
The leader of the Change Movement Eli Mahfoud responded to Hassan's criticism on Monday
Your excellency Al Haji Hassan if Prime Minister Tammam Salam does not represent the official Lebanon position then who does you think Sayyed Hassan Nasrallah, for example? .
He added: "If this is what you think then you and your colleagues should resign from the cabinet because its position contrasts with your position. Furthermore your statement today should be placed before the cabinet because you are questioning its legitimacy and the legitimacy of its head "your boss".