Abu Faour: Assad regime is plotting more assassinations in Lebanon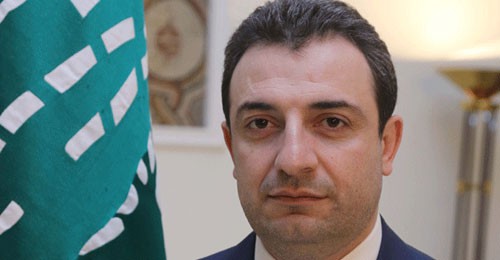 Lebanon Health Minister Wael Abu Faour accused on Saturday the Syrian leader of committing assassinations in Lebanon and that he will be plotting more assassinations as soon he is militarily comfortable.
"I believe that when (Syrian President Bashar) Assad feels that he is militarily comfortable he will have more time to tamper with the situation in Lebanon," Abu Faour said in an interview with the Asharq al-Awsat newspaper .
He told the daily that there are expectations that the Assad's regime "will further interfere in Lebanon through various means, which begin with political intervention and end with assassination bids."
"The aim is to incite sedition in Lebanon, maybe he (Assad) is delusional and thinks he can control Lebanon," Abu Faour said.
The minister who represents in the cabinet the Progressive Socialist Party lauded the efforts exerted by the Lebanese army to preserve the country, stressing that it is "coherent and ready to offer sacrifices."
MP Walid Jumblatt, who heads the Progressive Socialist Party has been an outspoken critic of the Syrian regime ever since the uprising started in Syrian
Commenting on the presidential vacuum, Abu Faour expressed concern that the matter would impact Lebanon's political system, accusing the allies of Free Patriotic Movement leader MP Michel Aoun of obstructing the election of a new head of state.
"It is clear that the allies of Aoun, like Hezbollah, are holding onto his candidacy in spite of him lacking the necessary conditions to be elected," he noted.
The minister stressed that Aoun has his political and popular weight but the president isn't only for Christians, he said: "if the Christian parties had agreed on one nominee the situation would have differed."
"Those who reject the election of a consensual candidate are behind the presidential deadlock." He said in a possible reference to MP Henri Helou who was nominated by Jumblatt as a consensual candidate" for the presidency.
Asked about the Saudi-led offensive against the  Shiite Houthi rebels in Yemen, Abu Faour described Saudi Arabia's decision to carry out a military operation in Yemen as simultaneously a brave and bitter choice, considering that this process is not only to defend the security of the Kingdom, but also to safeguard that of the whole region.
Like Hezbollah the Houthis are backed by Iran