Lebanese pop star abandons jihadist cause in Syria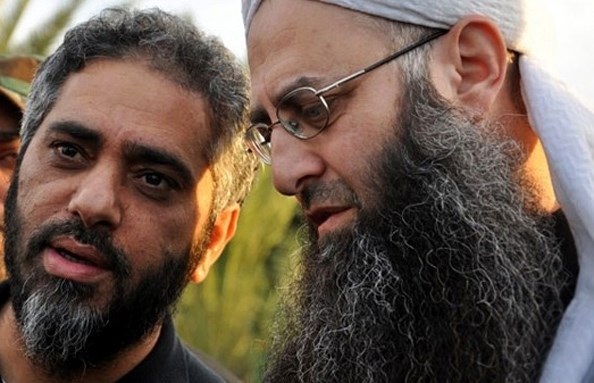 Fadel Shaker's about-face stands as a symbol of a wider crisis facing jihadist groups in Syria. Dozens of Saudis and more than 100 Jordanians have reportedly defected as well.

By Taylor Luck
Lebanese pop star Fadel Shaker gave unique momentum to jihadists in Syria when he took up their cause in 2012. But his sudden defection has had the opposite effect.
Mr. Shaker is the latest and the most high-profile of hundreds of jihadist fighters and supporters turning their backs on Islamist militias in Syria, disillusioned after three years of warfare failed to improve conditions for Sunni Muslims or establish Islamic law.
Shaker stunned the music industry and the wider Arab world in September 2012 by renouncing his multimillion-dollar music career for hard-line Islamist activism. He aligned himself with Lebanese jihadist cleric Ahmed al-Assir, who reportedly maintains strong ties with Al Qaeda-linked Jabhat al-Nusra.
He disavowed the very pop tunes that made him a household name across the Middle East – claiming love songs such as his chart-topping "come my love" were "forbidden" in his new strict interpretation of Islam – and began funneling off his personal fortune to Syrian militants.
In April 2013, Shaker announced the formation of a jihadist "free resistance brigade," consisting of "Muslim men that want to defend the honor and Muslim lands," to fight Syrian government forces and the Lebanese Shiite militant movement Hezbollah.
Shaker became a figurehead for hard-line Islamist militias fighting in Syria, urging disenfranchised young Muslims to "stand up and defend Muslim lands" in Syria, even singing in a television rally "God gave me the gift and invited me to join the jihad … Death does not frighten me, and my wish is to become a martyr."
Shaker denied through his lawyer that he fought in Syria. However, he publicly declared taking part in an attack by Islamist militants led by Mr. Assir on the Lebanese army in the southern city of Sidon in 2013 that left 18 soldiers dead. He bragged that he killed two soldiers himself in a YouTube video that went viral.
Yet on March 8, in his first televised interview in nearly two years, Fadel Shaker appeared on Lebanese LBC network, clean-shaven and in a pressed suit, announcing that he had severed ties with Assir and wanted back his "normal life."
He did not give a reason behind the sudden transformation, saying only through his lawyer that he has "abandoned the hard-line religious path."
Shaker's defection caught the jihadist community off-guard, prompting Al Nusra leader Abdullah Muheissini to take to Twitter to plead for his return. "I am surprised you have left the path.… Perhaps the path to jihad is wrought with hardships, but you have not tasted its sweetness," Mr. Muheissini wrote.
The crooner's about-face stands as a symbol of a wider crisis facing jihadist groups in Syria.
Over 100 Jordanian fighters have reportedly defected from jihadist militias such as Al Nusra and the Islamic State, in addition to dozens of Saudi nationals and reportedly hundreds of European fighters who have attempted to break ranks and return to their homeland.
Like Shaker, they too feel misled by clerics promising jihad and glory, and fed up with turf wars between different militant groups that detracts from their fight against Assad. Now they simply wish to return to their "normal lives" away from the front lines.

Yet also like Shaker, most jihadist defectors face prosecution in their homeland upon their return.
Shaker was sentenced to death in absentia for his role in attacks on the Lebanese army – a sentence his legal team hope to reduce or repeal – while Jordan has jailed more than 60 former fighters on sentences between three and five years.
CSM