Berri vows not to allow the Hezbollah-Future dialogue to collapse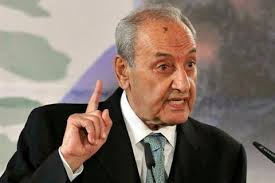 Speaker Nabih Berri will not allow the Hezbollah-Future Movement dialogue to collapse despite the recent tension that emerged between the parties Al-Liwaa daily reported on Tuesday.
The daily quoted sources close to Berri as saying that the eight round of talks would be held under his sponsorship in Ain el-Tineh on Wednesday unless it was delayed for some reason.
Hezbollah officials Hashem Safieddine and MP Mohammed Raad attacked during the weekend March 14 alliance's formation of a National Council.
Their criticism came in reaction to the coalition's announcement of a political blueprint and the formation of the Council on the 10th anniversary of March 14th anniversary .
The blueprint warned that the Lebanese state institutions would no longer exist over Hezbollah's role in Syria.
Hezbollah, which is a division of the Quds force of the Iranian Revolutionary Guards was ordered by Iran to send tens of thousands of fighters to Syria to help troops loyal to President Bashar Assad against rebels seeking to topple him.
The blueprint also accused Hezbollah's backer Iran of inciting Sunni-Shiite conflict to serve its interests.
The head of the Future Movement MP Saad Hariri said Lebanon would not be part of the Iranian empire, warning that Hezbollah's defense of the "tyrannical" regime in Syria was not the right way to fight terrorism that is threatening to destabilize the country.
Hezbollah-Future officials have been meeting in Ain el-Tineh since December to defuse sectarian hostility linked to the war in Syria.
They are now discussing a joint national strategy to combat terrorism and the presidential deadlock.
The National council
The March 14 coalition launched the National Council in an attempt to re-emphasize its multi-sectarian nature amid rising extremism regionally.
Comprising approximately 300 party officials and independent March 14 figures, the National Council will be run by an openly elected body. It will serve as the senate of March 14 coalition in a framework that brings together leaders from Lebanon and the diaspora to contribute to the drafting of March 14 policies.