Dempsey: Iran-backed Iraqi Shiite militias could turn against U.S.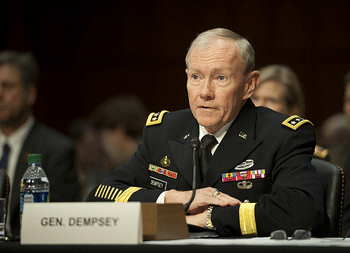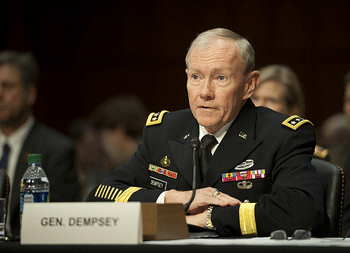 Chairman of the US Joint Chiefs of Staff Army Gen. Martin Dempsey says Iran-backed Iraqi Shiite militias could turn against U.S. after defeating ISIS.
Qassem Suleimani , the head of Iran's Revolutionary Guards elite the Quds Force, has been organizing Iraqi forces and has become the de facto leader of Iraqi Shiite militias that are the backbone of the fight. He was reportedly injured earlier this year in Samara and was flown for treatment in Tehran but returned earlier this month to lead the battle for retaking Tikrit , Saddam Hussein's hometown, from Islamic State.
He is listed by the United States as a terrorist, which forbids U.S. citizens from doing business with him.
The Quds Force created Hezbollah in Lebanon in 1982 and has long provided military assistance to the military group.
Tikrit
The Iran led Shiite militiamen and Iraqi army have entered Tikrit, the hometown of Saddam Hussein and one of the largest ISIS-held cities in the country, authorities said Wednesday.
They entered the city through its northern Qadisiyya neighborhood, where authorities quickly established a supply line to reinforce troops, Salahuddin police Brig. Kheyon Rasheed told the state-run Iraqiyya television.
"The terrorists are seizing the cars of civilians trying to leave the city and they are trying to make a getaway," Rasheed said. It wasn't immediately clear whether the troops and militiamen faced any resistance.
Video obtained by The Associated Press showed troops and Shiite militiamen marching alongside US made Humvees flying Iraqi military and Shiite militia flags in the city.
A local official in Iraq's Salahuddin province also confirmed that Iraqi troops and the militias made it into Qadisiyya. He spoke on condition of anonymity as he was not authorized to brief journalists.
"We are now doing combat missions to cleanse the neighborhood of Qadisiyah," a major general told AFP on condition of anonymity, according to Al Arabiya.
The general told AFP that Iraqi forces are now in control of Tikrit military hospital, close to the center of the city.
"But we are engaging in a very delicate battle because we are not facing fighters on the ground, we are facing booby-trapped terrain and sniper fire. Our movement is slow," the general added.
On Tuesday, the Iranian-led Shiite militias from both Iran and Iraq in addition to the Iraqi armed forces reclaimed the town of Alam, located near Tikrit.
Sunnis in Tikrit
The remarks to Congres Dempsey on Wednesday also voiced concern about how Sunni Muslims would be treated once Islamic State militants were driven away.
"There's no doubt that the combination of the Popular Mobilization forces and the Iraqi security forces, they're going to run ISIL out of Tikrit," Dempsey told a Senate hearing, using an acronym for the militant group.
"The question is what comes after, in terms of their willingness to let Sunni families move back into their neighborhoods, whether they work to restore the basic services that are going to be necessary, or whether it results in atrocities and retribution."
Dempsey said the forces advancing on Tikrit were overwhelmingly composed of 20,000 Iranian-backed Shi'ite Muslim militias known as Hashid Shaabi (Popular Mobilization) units. The Iranian  backed Shiite  militia are being   supported by  Iraqi brigade of about 3,000 troops as well as a couple of hundred forces from the Iraqi counter-terrorist service, he said
"I would describe them as Iranian-trained and somewhat Iranian equipped," Dempsey said, adding he had no indications they intended to attack the nearly 3,000 American forces now stationed in Iraq.
Dempsey, fresh back from a trip to Iraq this week, said the outcome of Tikrit would speak volumes about whether Iran would use its influence in Iraq constructively.
"The Tikrit operation will be a strategic inflection point one way or the other in terms of easing our concerns or increasing them," he said.