U.S. reluctant to offer Iraq Intel on ISIS in Tikrit due to Iran's role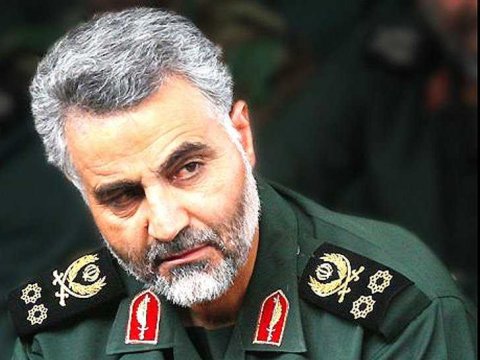 For the first time since Iraqi forces launched an operation to recapture the city of Tikrit, Baghdad has asked the United States for intelligence to help beat back the Islamic State (ISIS) in a counteroffensive that's stalled on the outskirts of the city, a senior U.S. military official in Iraq told Newsweek.
Yet in a sign of Washington's unease with the major role being played by Iranian-backed militias in the battle against ISIS, U.S. officials balked at providing assistance, and instead demanded that Baghdad first appoint its own overall commander for the operation, part of which is being overseen by Iranian military advisers.
As it stands, nobody knows who's in charge of the Tikrit operation, said this official, who spoke on condition of anonymity according to diplomatic protocol.
"As a matter of policy, the United States does not coordinate…anything with Iran," the official added. "The Iraqis have some homework to do on this before we are able to assist them in the area they've asked for."
Speaking by phone from his headquarters in Baghdad, the official said Iraqi Prime Minister Haider al-Abadi asked for U.S. assistance in providing intel on ISIS's defenses in Tikrit last Saturday.
"I told him there needs to be a central ground force commander on the ground," the U.S. official said. "An Iraqi that provides command and control under the purview of Iraq's Ministry of Defense."
The U.S. response underscores the political sensitivities involved as Washington provides training and assistance to Iraqi forces, which have also accepted aid from Tehran and Iranian-backed Shiite militias in their fight against ISIS. The Obama administration regards Iran as a hostile country and refuses to coordinate any of its military assistance to Iraq with Tehran or Iranian-backed militias.
"Everybody knows that they're here, fighting against a common enemy," the U.S. military official said. "Still, from our perspective, we will only work through the central government through the command and control of the ground force commander within the legitimate government of Iraq."
Since last summer, Tikrit has been under ISIS control. The Iraqi counteroffensive, which began last week, has fielded a force of some 30,000 fighters. Several Iraqi army brigades are participating, as well as some Sunni tribesmen. But the bulk of the ground forces are made up of Iraqi Shiite militias, which have been trained, armed and advised by Tehran. Major General Qassem Suleimani, the leader of Iran's Revolutionary Guards' Quds Force, has even turned up on the front lines to cheer on the Shiite fighters. Until the Iraqi request for U.S. intel, Baghdad had not asked for any U.S. assistance for the counteroffensive.
The U.S. official said it wasn't clear whether Suleimani was calling the shots in Shiite militia operations around Tikrit. "Where he is and what he's specifically doing…those are the parameters that the Ministry of Defense has to sort through for the support that they're looking for," the official said.
At a news conference in Baghdad on Monday Iraqi Defense Minister Khalid al-Obeid praised Iran for its assistance in the war against ISIS. "We have solicited help from many of the countries that we have a strategic relationship with," he said, mentioning both the U.S. and Iran, according to Associated Press. "We appreciate all this help. We are in a state of war, and we look to our friends to help us in this confrontation."
Al-Obeid described assistance his country has received from Tehran and Washington as "balanced":
"The situation is acceptable to us," he said, adding that Iranian-armed Shiite militias have played "a very positive role" in Iraq.
Joining Al-Obeid at the news conference was U.S. chairman of the Joint Chiefs, Gen. Martin Dempsey, who later told reporters that the nature of Iraq's relationship with Iran was not entirely transparent. "What I'm trying to sort out, actually, is the degree to which their near-term embrace of the assistance they're receiving from Iran is a reaction to the existential threat [posed by ISIS], or whether it is something longer-term," he said.
The senior U.S. military official said the U.S. has been able to help Iraq strengthen its command over Iranian-backed Shiite militias by using coalition air power as leverage. Though the militiamen are not formal members of the Iraqi military, they are now taking orders from Iraqi commanders "because they know if they don't, they won't benefit from coalition airstrikes," the official said. "We won't provide coalition airstrikes unless it is tied to a legitimate ground force commander who got a radio and calling to a joint operations command."
The official added that the absence of an Iraqi commander for the Tikrit offensive was not the only obstacle to U.S. intel assistance. Iraq also would have to modify its military restrictions on the air space around the city to avoid U.S. spy planes coming under Iraqi fire or colliding with Iraqi aircraft. "They've got artillery, indirect fire, rockets, also some of their own aircraft flying around," the official said. "If I'm going to fly an [intelligence, surveillance and reconnaissance] platform, either manned or unmanned, I've got to be able to get into that airspace to see what might be on the ground to assist you with your ground maneuver."
In the week since the counter offensive began, Iraqi forces have recaptured several towns on the outskirts of Tirkit, but they've been bogged down by having to neutralize and defuse scores of booby-trapped cars and improvised explosives. Inside the city, ISIS fighters are believed to be well-entrenchedbehind defensive perimeters and enfiladed fields of fire.
To date, the official said that U.S. special forces have trained 4,300 Iraqi soldiers, none of whom will be taking part in the Tikrit offensive. Over the next few months, the U.S. goal is to train a total of five Iraqi brigades, or roughly 10,000 troops.
Newsweek