Obama, US senators clash over the open letter to Iran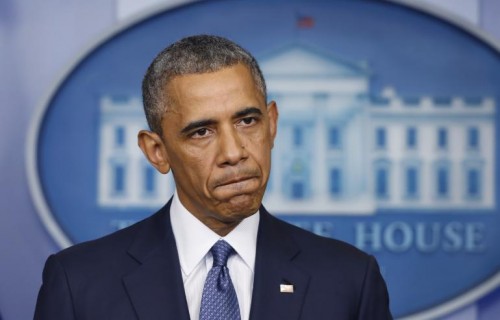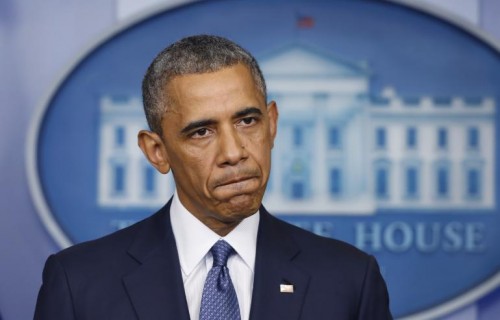 President Obama denounced a group of Republican senators Monday for warning Iran that any nuclear deal could be a temporary one, calling it an attempt to undermine the administration's foreign policy.
"It's somewhat ironic to see some members of Congress wanting to make common cause with the hardliners in Iran," Obama said of an open letter from Republicans who have questioned the prospect of a nuclear agreement. "It's an unusual coalition."
In the letter to Iran's leaders, 47 Senate Republicans said that any deal is only an "executive agreement" that may not last beyond Obama's presidency, which ends on Jan. 20, 2017.
"The next president could revoke such an executive agreement with the stroke of a pen and future Congresses could modify the terms of the agreement at any time," said the letter pushed primarily by Sen. Tom Cotton, R-Ark.
As the United States and allies talk to Iran about a deal to block any nuclear weapons program in exchange for a reduction of sanctions, White House spokesman Josh Earnest described the Republican letter as "the continuation of a partisan strategy to undermine the president's ability to conduct foreign policy."
The letter is essentially designed to "throw sand in the gears" of ongoing talks, Earnest said, and is not a "role that our Founding Fathers envisioned for Congress to play when it comes to foreign policy."
Obama, speaking after a meeting with European Council President Donald Tusk, noted there is not yet an agreement with Iran. If there is, the president said, "then we'll be able to make the case to the American people, and I'm confident we'll be able to implement it."
Iran's foreign minister, Javad Zarif, dismissed the letter as "mostly a propaganda ploy" by critics of his country.
"It is very interesting that while negotiations are still in progress — and while no agreement has been reached — some political pressure groups are so afraid even of the prospect of an agreement that they resort to unconventional methods, unprecedented in diplomatic history," he said in a statement.
In recent weeks, the Obama administration criticized the House Republican leadership for inviting Israel Prime Minister Benjamin Netanyahu to address a joint session of Congress about Iran.
As congressional Republicans and others applauded, Netanyahu questioned whether an agreement would deter Iran from seeking the means to make nuclear weapons.
Iran says that it is not trying to secure a nuclear weapon and that its program is designed for peaceful energy purposes.
The United States, allies and Iran are looking to establish at least the framework of an agreement by the end of the month.
Some members of Congress have objected to the prospect that Obama might not submit an Iran agreement for congressional approval. They have also discussed the possibility of increasing sanctions on Iran, though Obama administration officials have said that move would hurt negotiations.
In their open letter to Iran, the Senate Republicans told that nation's leaders they "may not fully understand our constitutional system. … Anything not approved by Congress is a mere executive agreement."
Criticizing that letter, Earnest noted that many signers simply oppose any nuclear agreement with Iran. The White House spokesman said that forgoing a deal risks a "military option" when it comes to the disputed Iranian nuclear deal. He said any agreement would include "intrusive inspection measures" to make sure Iran is not seeking a weapon.
"The rush to war or at least the rush to the military option that many Republicans are advocating is not at all in the best interest of the United States," Earnest said.
Obama himself said he will sign an agreement only if it prevents Iran from getting a nuclear weapons.
"I would say that over the next month or so we're going to be able to determine whether or not their system is able to accept what would be an extraordinarily reasonable deal," Obama told CBS News over the weekend.
He added: "If we are able to verify that in fact they are not developing weapons systems, then there's a deal to be had. But that's going to require them to accept the kind of verification and constraints on their program that so far, at least, they have not been willing to say yes to."
Text of the open letter to Iran
Dozens of Republican senators wrote an open letter to the leadership of Iran, warning them that any nuclear deal signed between Iran and U.S. President Barack Obama might not last beyond his presidency, without Congress signing off on it as well. Here is the text of the letter.
An Open Letter to the Leaders of the Islamic Republic of Iran:
It has come to our attention while observing your nuclear negotiations with our government that you may not fully understand our constitutional system. Thus, we are writing to bring to your attention two features of our Constitution — the power to make binding international agreements and the different character of federal offices — which you should seriously consider as negotiations progress.
First, under our Constitution, while the president negotiates international agreements, Congress plays the significant role of ratifying them. In the case of a treaty, the Senate must ratify it by a two-thirds vote. A so-called congressional-executive agreement requires a majority vote in both the House and the Senate (which, because of procedural rules, effectively means a three-fifths vote in the Senate). Anything not approved by Congress is a mere executive agreement.
Second, the offices of our Constitution have different characteristics.
For example, the president may serve only two 4-year terms, whereas senators may serve an unlimited number of 6-year terms. As applied today, for instance, President Obama will leave office in January 2017, while most of us will remain in office well beyond then — perhaps decades.
What these two constitutional provisions mean is that we will consider any agreement regarding your nuclear-weapons program that is not approved by the Congress as nothing more than an executive agreement between President Obama and Ayatollah Khamenei. The next president could revoke such an executive agreement with the stroke of a pen and future Congresses could modify the terms of the agreement at any time.
We hope this letter enriches your knowledge of our constitutional system and promotes mutual understanding and clarity as nuclear negotiations progress.
Sincerely,
Senator Tom Cotton, R-AR
Senator Orrin Hatch, R-UT
Senator Charles Grassley, R-IA
Senator Mitch McConnell, R-KY
Senator Richard Shelby, R-AL
Senator John McCain, R-AZ
Senator James Inhofe, R-OK
Senator Pat Roberts, R-KS
Senator Jeff Sessions, R-AL
Senator Michael Enzi, R-WY
Senator Michael Crapo, R-ID
Senator Lindsey Graham, R-SC
Senator John Cornyn, R-TX
Senator Richard Burr, R-NC
Senator John Thune, R-SD
Senator Johnny Isakson, R-GA
Senator David Vitter, R-LA
Senator John A. Barrasso, R-WY
Senator Roger Wicker, R-MS
Senator Jim Risch, R-ID
Senator Mark Kirk, R-IL
Senator Roy Blunt, R-MO
Senator Jerry Moran, R-KS
Senator Rob Portman, R-OH
Senator John Boozman, R-AR
Senator Pat Toomey, R-PA
Senator John Hoeven, R-ND
Senator Marco Rubio, R-FL
Senator Ron Johnson, R-WI
Senator Rand Paul, R-KY
Senator Mike Lee, R-UT
Senator Kelly Ayotte, R-NH
Senator Dean Heller, R-NV
Senator Tim Scott, R-SC
Senator Ted Cruz, R-TX
Senator Deb Fischer, R-NE
Senator Shelley Moore Capito, R-WV
Senator Bill Cassidy, R-LA
Senator Cory Gardner, R-CO
Senator James Lankford, R-OK
Senator Steve Daines, R-MT
Senator Mike Rounds, R-SD
Senator David Perdue, R-GA
Senator Thom Tillis, R-NC
Senator Joni Ernst, R-IA
Senator Ben Sasse, R-NE
Senator Dan Sullivan, R-AK
USA Today/WSJ