Amal and George Clooney take New York by storm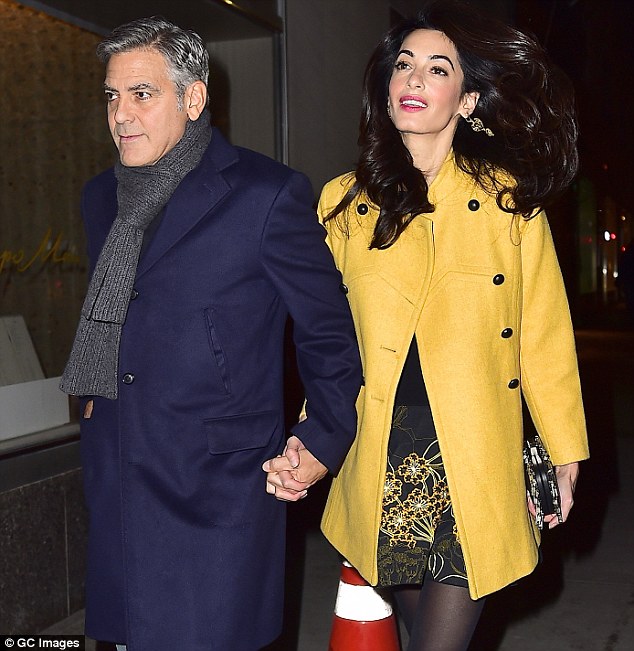 Hey, George and Amal — New York is ready for its close up…with you.
The world's most glamorous newlyweds have been gracing the city for a fortnight, but Clooney sightings have been as rare as Bill Murray Oscar nominations.
But the couple's fans are still pining for them.
"They would be most welcome," says Georgette Farkas, owner of Rotisserie Georgette near where the Clooneys are believed to be staying on the Upper East Side, and where they ate last year.
Farkas has barely recovered.
"It was an effervescent moment," she says. "He did come over to me to introduce himself. My knees wobbled, I don't mind confessing."
The good news: New Yorkers will have more opportunities to let the ultimate power couple weaken their knees. George is filming "Money Monster" with Julia Roberts through at least April 8, when there's reportedly a crucial outdoor scene set for Federal Hall. And Amal will be lecturing Mondays and Wednesdays at a human rights course at Columbia Law School for the spring semester.
The bad news: The couple, which has massive compounds near London and on Lake Como, doesn't seem keen on mingling. And you thought Woody Allen was reclusive — at least his fans can still catch him at Cafe Carlyle every Monday night. Trying to spot the Clooneys is like looking for Banksy.
Pop culture expert and consummate New Yorker Valerie Greenberg says the couple has drawn a lot of attention to themselves.
"They had that extravagant wedding, they must like attention to a certain degree," she says. But they're doing themselves a disservice buy not taking advantage of everything that the city has to offer.
"The more natural that Amal and George act, the more they'll take New York by storm and have a much better experience," adds Greenberg. "Amal, wear your Converse. Go sit in Washington Square Park with your hubby."
After all, "When we see A-listers like Sarah Jessica Parker and Katie Holmes on the street, real New Yorkers just let them be."
To be fair, the couple is working — he on a movie and she on making the planet safe for human rights.
"She's trying to get an (Al Jazeera reporter) out of prison in Egypt," George cracked on the red carpet at a March 2 event at Lincoln Center when someone asked why he was going stag. "So she's working, she's got a lot of stuff to do."
In fact, in some quarters, she's the bigger celebrity.
One of the busboys at Kappo Masa, a sushi restaurant that hosted the couple on Saturday, told The News he was overwhelmed by seeing Amal Clooney because of all the work she had done in remedying human rights abuses in his homeland.
Beyond that here's what we know:
* They are almost assuredly staying at the Carlyle, where Clooney has been spotted exiting and entering. The Upper East Side hotel won't confirm the A-list reservation.
* They like good food — but need to wait in line like the rest of us. Confidenti@l reported last week that buzzy downtown Italian eatery Carbone turned away George and Amal when they called to book a table for the same night.
"They tried to get reservations at 8:30, which was a no-go, so they tried 9:30," said our source. "It says a lot about New York restaurants: If a dining room is full, that's the end of the story. They don't care if you're an A-lister or a regular — they treat everyone the same."
The couple eventually got a reservation to sample the restaurant's menu – which includes a $53 halibut piccata – at a later date.
* George is no snob. Last week,he let pal Bill Murray take him to Taverna Kyclades, a Greek restaurant in Astoria. They dined on chicken kabobs, caviar dip and stuffed grape leaves, then posed for a picture with a worker.
"Everything went nice, they were very easy-going," said manager Konstantinos Daniil. "They were very, very nice people."
* Hint, hint: If you want to see the couple, stake out restaurants owned by Scott Gerber — brother of Rande Gerber, who was not only George's best man, but also partners with him in the Casamigo Tequila business. Gerber's restaurant group includes Stone Rose, The Roof, Studio and the Living Room.
"(There have been) no recent sightings of George, but since he is indeed best friends with Rande, he'll likely be frequenting Gerber Group's venues while he's in town," says rep Helen Zhang.
George has also been a regular at Cipriani restaurants, and at Bungalow 8 and hip Chelsea club No. 8 owned by Amy Sacco, who was also at the Wedding of the Century in Venice last September.
"We love him," says No. 8 brand manager Michael Fragoso, who hasn't seen either Clooney in their club yet this spring, "but I should hope so soon. It's great to have both of them in New York."
* Amal's Columbia Law gig as a "visiting professor" has made her the most talked-about subject on campus since that student carried around a mattress for a year.
Clooney called the position "an honor," but the website of the school's daily newspaper blew up with comments, most of them negative.
"Anyone who knows human rights knows she isn't as 'accomplished' in HR as the media keeps claiming she is," posted one anonymous reader.
Another no-name claimed, "I seriously doubt she would be offered this position were her last name not Clooney," the rant said. "(She is) just trying to get prestige for herself by associating with Columbia University."
Want to bask in that glow anyway? The course meets Mondays and Wednesdays at 10:40 a.m.
Sidebar: The confirmed sightings
George and Amal Clooney have been in New York since Feb. 25, but they've kept a very low profile. Here's where they've been:
Feb. 27, Upper East Side: The pair dines at Cafe Boulud and gets a drink at Bemelmans Bar in the Carlyle Hotel.
March 1, Long Island City: George is spotted entering Kaufman Studios for filming.
March 2, Lincoln Center: George Clooney celebrates Paul Newman's legacy. Meryl Streep and Danny DeVito are on hand. No Amal.
March 3, Astoria: George dines with Bill Murray at Taverna Kyclades, a Greek restaurant. No Amal.
March 7, Upper East Side: The couple is spotted at the sushi joint Kappo Masa. They held hands at the table before slipping out the back door to avoid paparazzi.
NY Daily News