Lebanon's Hariri and Egypt's Sisi discuss Iran's interference in the region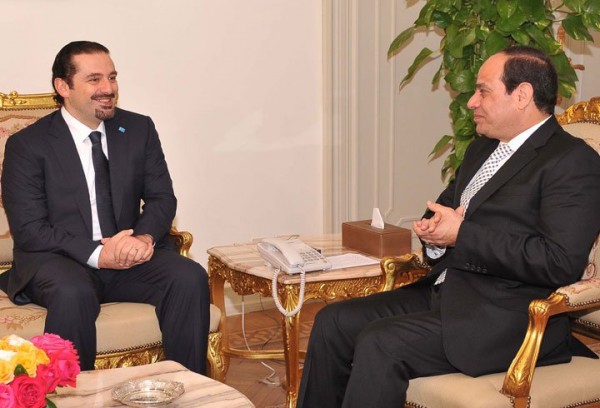 Egyptian President Abdel Fatah al-Sisi met Sunday with former Lebanese Prime Minister and the Future Movement leader MP Saad Hariri in Cairo, discussing what they called Iranian "interference" in the region as well as other international and regional issues.
Following the meeting, Hariri told media reporters that they tackled the Iranian "intervention" in the region, Veto gate reported Sunday.
Iranian- led Shiite militia ( from Iran and Iraq) and Iraq army troops battled against the Sunni Islamic State (IS) group in outskirt of Tikrit city in Iraq in the past few days, a development that has stirred worries of Gulf States of increasing Iranian influence in Iraq.
"Egypt shares with its brotherly Arab countries the concerns and worries about any party's interference in the domestic affairs of any Arab county; this matter requires the unity of the Arab world and solutions to prevent regional interference," a presidential statement quoted Sisi Sunday.
President Sisi affirmed many times that the security of the Gulf States is integral part of Egypt's security. Most of the Gulf States, particularly Saudi Arabia, Emirates, Kuwait, Bahrain have supported Egypt since the ouster of the former Muslim Brotherhood President Mohamed Morsi in July 2013. During his one-year tenure, Morsi took steps to renew the Egyptian-Iranian relation after being stalled since 1979.
Gulf States' concerns increased following American and French efforts to reach a nuclear deal with Iran. Three days ago, U.S. Secretary of State John Kerry flew to Saudi Arabia to ease such worries over reaching a deal, Reuters reported.
Sisi and Hariri's meeting also tackled bilateral relations between both sides, the presidential statement added, noting that Sisi expressed his hope that Lebanon's President could be elected soon.
Both sides discussed "extremism" in the region. Hariri offered his country's support to Egypt's efforts against terrorism, according to a statement issued by Hariri on his official Facebook page.
Regarding the four-year-old Syrian Crisis, Sisi affirmed that Egypt supports a political solution, and highlighted the importance of Arab support to Syrian opposition.
Hariri was accompanied by the lawmaker and former Minister of Information Bassem al-Saba', former lawmaker and politician Ghattas Khory and his advisor Radwan al-Sayyed.
The first visit Hariri, son of the assassinated Prime Minister Rafiq Hariri, paid to Egypt was Feb. 19, 2014; he held meetings with the former interim President Adly Mansour and Sisi when he was Minister of Defense on international and national issues.
The Cairo Post