UK bomb plot suspect Abid Naseer found guilty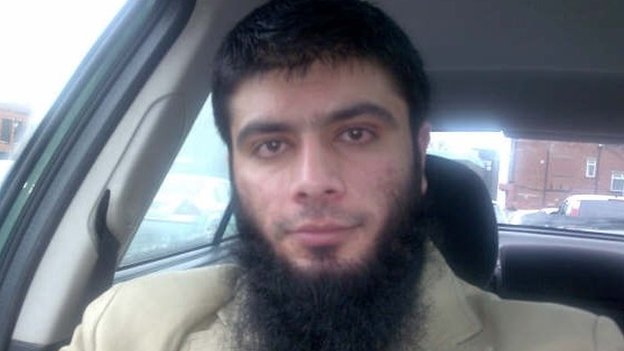 A Pakistani man extradited from the UK to the US has been convicted for plotting attacks in several countries.
Abid Naseer, 28, was found guilty by a New York jury of providing material support to al-Qaeda and conspiracy to use a destructive device.
He faces up to life imprisonment at sentencing.
Evidence at Naseer's trial included a document found in the raid of the bin Laden compound and MI5 officers testifying in wigs.
A jury took returned the verdict after a day of deliberation following closing arguments on Monday.
Prosecutors argued Naseer was part of a broader al-Qaeda conspiracy to attack various Western locations, including a Manchester shopping centre and the New York subway system.
In closing arguments on Monday, prosecutors said Naseer lied about his history during his defence, including becoming radicalised in Pakistan.
"If the defendant hadn't been stopped, hundreds of innocent men, women and children wouldn't be alive today," prosecutor Zainab Ahmed said during closing arguments.
"The defendant has something to hide," Ms Ahmed said, according to the New York Daily News.
"He was trying to cover up his motive for revenge against the United States and its Nato allies. Revenge was the defendant's motive."
Naseer, who represented himself in court, said in closing arguments the prosecution had not directly connected him to al-Qaeda.
He insisted his emails were simply harmless banter about finding a wife.
"He wanted to settle down," Naseer said speaking in the third person on Monday. "Is there anything wrong with that?"
His defence was largely based on his own testimony and cross-examining prosecution witnesses.
Prosecutors brought in MI5 agents who had previously tracked Naseer in 2009 at a shopping centre in the UK.
They also relied on the testimony of two co-conspirators who pleaded guilty to the subway plot – Najibullah Zazi and Zarein Ahmedzay – who said certain words in Naseer's emails about marriage were code.
The New York jury were also presented a letter to Osama Bin Laden outlining planned attacks.
Taken during a US Navy Seal raid on the al-Qaeda chief's Pakistan home in 2011, the papers made no mention of Manchester specifically and did not mention the defendant's name.
In the letter to Bin Laden, the author says "brothers" had been dispatched to Britain, Russia and Europe but that some had been arrested.