Fierce clashes near intel HQ in Syria's Aleppo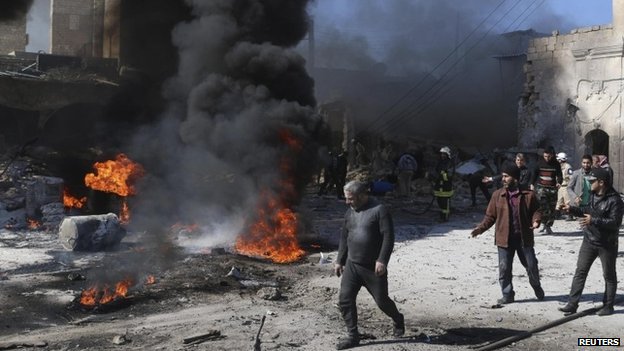 Beirut, Lebanon – Heavy clashes erupted Thursday between Syrian regime forces and rebels near an intelligence headquarters the opposition had tried to seize in a spectacular attack, a monitor and security source said.
"There are very heavy battles between regime forces and (rebel) fighters in the area of yesterday's attack, with the two sides shelling the other," Rami Abdul Rahman, the director of the Britain-based Syrian Observatory for Human Rights, told AFP.
He had no immediate information on casualties.
The clashes came after rebels launched a major attack on the air force intelligence headquarters in western Aleppo on Wednesday, leaving at least 20 members of regime security forces and 14 rebels dead.
The attack on the intelligence offices – a frequent target of the rebels – began with a huge explosion in a tunnel that caused part of the building to collapse. An assault by anti-regime gunmen followed but was repelled by security forces.
It came as a UN delegation visited Aleppo to push efforts for a ceasefire in the northern city, which was once Syria's commercial hub but has been divided between regime and rebel forces since fighting erupted in mid-2012.
Opposition forces on Sunday rejected the ceasefire plan proposed by UN envoy Staffan de Mistura, saying they instead want a "comprehensive solution" to Syria's conflict through the departure of President Bashar Al Assad. Meanwhile, the head of Syria's Western-backed political opposition is trying to ally with opposition groups based in Syria to boost its legitimacy and help revive peace talks that centre on a political transition in the country.
Khaled Khoja, who became president of the National Coalition for Syrian Revolutionary and Opposition Forces in January, told Reuters in an interview that the group's goal was still for Al Assad to leave power, but that it was no longer a precondition to begin talks.
Despite having only tenuous links with fighters on the ground and seen as out of touch with the general population, the National Coalition remains one of the main parties in international discussions to end the almost four-year-old civil war that has killed more than 200,000 and displaced millions.
"We have a new strategy which is based on taking the initiative and launching a dialogue between the coalition and other parties that aren't part of it," Khoja said late on Wednesday after holding talks with UN Syria Envoy Steffan De Mistura.
"The ultimate objective is to have a general assembly that includes all parties who want a new Syria and have a common stance towards any negotiation process with the regime based on the Geneva 1 agreements." There currently is no serious peace process in place. In the four years of fighting, two UN mediators have hosted high-profile conferences in Geneva, only to quit in frustration after they failed to yield meaningful progress.
Agreements reached in 2012 in Geneva, when a document approved by rival sides called for creating a transitional governing body with full executive powers, would be the basis for any talks.
Khoja, 49, said the key was to end the bloodshed. He said he had had some success after secret talks arranged by France 10 days ago with the domestic National Coordination Committee for Democratic Change.
The two sides agreed for the first time on a joint roadmap calling for a transitional governing body.
Khoja is also to hold talks with other internal groups, including Building the Syrian State, led by activist Louay Hussain, and others who could be deemed close to the government.
"We will continue until we have as many opposition parties and figures as possible," the Damascus-born doctor and businessman said.
"As the umbrella of the Syrian opposition, we insist on the goal of toppling Al Assad and the security services that serve him, but it is not necessary to have this condition at the beginning of the process," he said.
Khoja added, however, that it was vital any transition ensured the state apparatus remained.
In previous peace talks, Al Assad's camp has belittled the Western-backed opposition for its lack of legitimacy and representation.
His two main backers, Russia and Iran, have also pointed to the lack of a credible opposition and said Al Assad's departure could leave an even larger vacuum.
However, with the rise of Islamic State, there is a sense that the deteriorating security situation and fact that neither side can prevail militarily may create an opportunity to revive peace talks.
"We are at a time when talking again about finding a political solution is credible," a French diplomatic source said ahead of a meeting between Khoja and President Francois Hollande on Thursday.
"What makes us think that we could get there is that to a certain degree Islamic State is putting pressure on everybody and that everybody has to shift, including the Russians and Iranians."
GN/Reuters/AFP