Cuba, Lebanon ink diplomatic agreement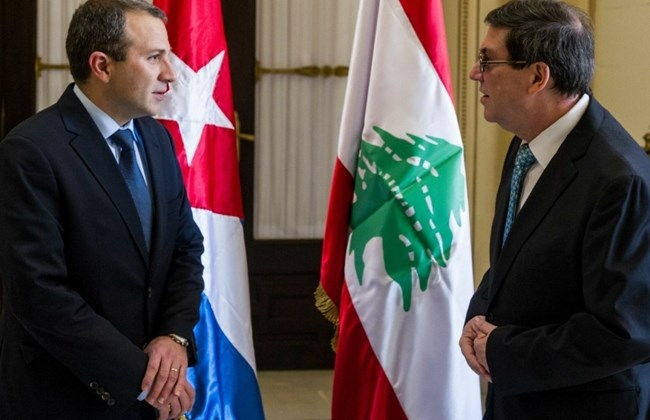 Lebanese Foreign Minister Gebran Bassil signed what was described by the Lebanese media as a historic diplomatic agreement with his Cuban counterpart Bruno Rodriguez Parrilla in Havana on Friday
Bassil's visit marks the first official visit by a Lebanese foreign minister to Havana since 1970.
Parrilla expressed solidarity with Lebanon and other Arab countries, citing his country's stand against Israel, according to the reports
"We express our support to the Lebanese and Arab causes, especially to the Palestinian cause," Parilla was quoted as saying
Bassil thanked Cuba for working with Lebanon and voiced opposition of international support to Israel.
"We will firmly as Lebanese stand for our rights against the oppression of Israel and we will defeat Israel who will never win a gain over us," he said.
Parrilla hosted a private reception for Bassil attended by ambassadors to Cuba and influential members of the Cuban-Lebanese community.
Bassil congratulated his counterpart on the recent rapprochement between Cuba and the United States.
He hoped that the Lebanese community in Cuba, which is estimated to be comprised of about 30,000 people, will help the bonding process between the two countries and their citizens, especially in terms of economic and cultural relations.
Bassil also met with Cuba's Deputy Prime Minister Ricardo Cabrisas Ruiz during the trip, and the two officials agreed on forming a diplomatic committee for securing a better relationship between Lebanon and Cuba.
The agreement was signed one day before Cuba freed Lebanese- Canadian businessman Cy Tokmakjian after more than three years in jail, resolving a case that had strained Cuban-Canadian relations and alarmed foreign investors.