Israeli officials angry as Palestinian embassy opens in Sweden
The Palestinian Authority has opened their first embassy in Western Europe in Sweden on Monday.
"We are extending our hands to a just peace based on the international legitimacy resolutions," Palestinian President Mahmoud Abbas said a Stockholm press conference with Sweden's Prime Minister Stefan Lofven. 
"According to our view, Palestine is from now on a state," Prime Minister Lofven said at the press conference. "Therefore our expectations from Palestine and its leaders are going to grow."
Sweden became the first Western European Union-member state, joining 135 out of 193 countries, who have fully or partially recognized a Palestinian state, according to RT. Until the formal announcement, the Palestinian Authority (PA) operated a General Delegation of Palestine in Sweden, based out of Stockholm. 
"It does not make us happy to see (Abbas) here on a visit with a new government that very quickly decided to recognize Palestine," Israeli Ambassador to Stockholm Isaac Bachmantold the Times of Israel.  
Under the new agreement, Sweden will commit to raising aid to the PA by $180 million over the next five years. However, Prime Minister Lofven said that the commitment comes with a mandate for the Palestinian Authority to preside over a society controlled by the rule of law. The increased funding will be used to fighting corruption, advancing human rights, and gender equality, according to the Times of Israel.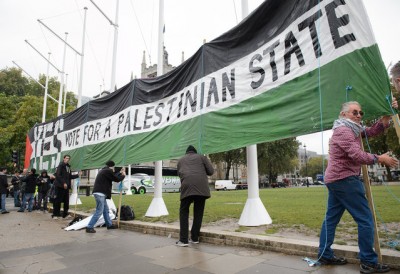 Sweden had officially recognized the Palestinian state this past October, joining Malta, Iceland, and Cyprus as the only other European nations to do so, according to Slate. Israel has claimed that Palestinian independence and recognition by the United Nations or by individual countries only undermines the peace process. 
Israeli Foreign Minister Avigdor Lieberman called Swedish recognition at the time, "A miserable decision that strengthens the extremist elements and Palestinian rejectionism."
Sweden had been urging its Scandinavian neighbors to follow suit by formally recognizing the Palestinian state. The Parliaments of Spain, Ireland, Great Britain and France have all voted to recognize Palestine, against the will of the Israelis, according to a separate story from RT. 
Relations between Israel and Sweden are still tender because Israel was not in favor of the formal establishment of a Palestinian embassy in a prominent EU-member state. President Abbas' visit to the Scandinavian country comes a month following a senior Israeli official barring Swedish Foreign Minister Margot Wallstroem, from any official visits to Israel. Ms. Wallstroem said she would seize on Mr. Abbas's visit as an opportunity to revitalize peace talks, according to the Times of Israel.
Christian Science Monitor