Murder of 3 Muslim family members near NC university sparks outcry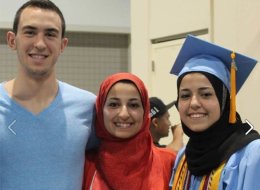 Three members of a Muslim family were shot to death Tuesday in their home near the University of North Carolina at Chapel Hill campus.
The suspect, 46-year-old Craig Stephen Hicks, surrendered and was arrested on charges of first-degree murder. He is accused of killing Deah Barakat, 23, Barakat's wife, Yusor Abu-Salha, 23, and Yusor's sister, Razan Abu-Salha, 21.
Police responded to reports of gunshots at about 5:15 p.m., Tuesday, when they found the victims' bodies. The shooting happened in a neighborhood that is mostly rental apartments where students live, and crime there is low, according to the News and Observer.
The gruesome scene has sparked an outcry on Facebook and Twitter, as word circulated that Hicks described himself as an "anti-theist" and criticized religions online, according to The Independent. That revelation, as well as a lack of media attention to the shooting Tuesday night, reportedly led to a "#MuslimLivesMatter" hashtag. Police have not released a motive for the killings.
Less than two weeks before his murder, Barakat — a dental student at UNC — was involved in a debate over the Gaza Strip on Twitter, the New York Daily News reports. One of his tweets went viral when news of his death spread. It reads: "It's so freaking sad to hear people saying we should "kill Jews" or "Kill Palestinians". As if that's going to solve anything SMH."
Each of the young family members were students. Yusor — who married Barakat in December, according to their Facebook profiles — was studying human biology at North Carolina State University and was planning to graduate this year. Razan was studying architecture and environmental design at North Carolina State University last year, according to her Facebook page.
On Facebook, a memorial page was set up to remember the family as "faithful" and "beautiful."