Hezbollah chief : "we do not want a war" with Israel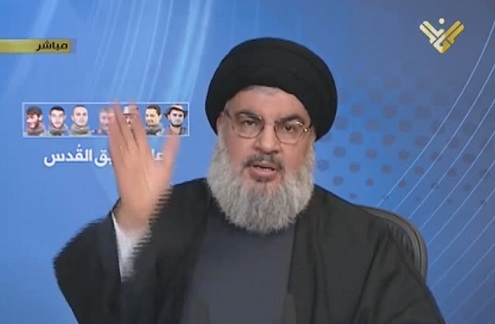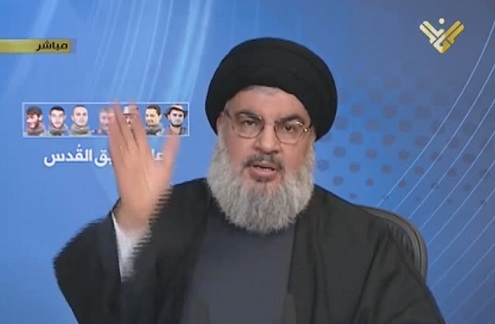 Hezbollah chief Hassan Nasrallah said on Friday during a televised speech commemorating the "Resistance's Martyrs in Quneitra"that the party does not want a war with Israel but at the same time does not fear one.
"We do not want a war, but we do not fear it." he said
"If Israel is banking that we fear war, then I tell it that we do not fear war and we will not hesitate in waging it if it is imposed on us."
Commenting on Israeli strike in Quneitra he said
"From now on, if any member of Hezbollah is assassinated, then we will blame it on Israel and reserve the right to respond to it whenever and however we choose."
"We have the right to confront the enemy at any time, place, or manner". he added
" The resistance no longer cares about rules of engagement and we do not recognize them in confronting the enemy. He continued .
Commenting about the assassination of the Iranian general and Hezbollah fighters in Quneitra he said.
" The mix of Lebanese and Iranian blood on Syrian soil in Quneitra represent the unity of our battle and fate"
Commenting on Hezbollah attack of the Israeli convoy that resulted in the killing of 2 Israeli soldiers he said.
"We did not hesitate in making the decision that Israel should be punished for its crime in Quneitra even if it meant going to an all-out war," and revealed that the party immediately began planning its retaliation.
"We prepared ourselves for the worst case scenario when we took that decision," Nasrallah said.
"Israel for its part took all preparations in anticipation of our retaliation," he added.
"We chose our response at the Shebaa Farms and in broad daylight in spite of Israel's precautions," he declared.
Nasrallah criticized the Israeli leadership for carrying out the Quneitra attack:
"The Israeli people discovered that their leadership put them on the brink of war, jeopardizing their economy and security," he added.
"Israel learned that it should not test us again given the Quneitra strike and Shebaa Farms operation," he warned.
Israel and Hezbollah signaled on Thursday their rare flare-up in fighting across the Israel-Lebanon border was over, after Hezbollah killed two Israeli troops in retaliation for a deadly air strike in Syria last week.
Israel said it had received a message from UNIFIL, the U.N. peacekeeping force in Lebanon, that Hezbollah was not interested in further escalation.
Wednesday's clash was one of the most serious on that border since 2006, when Hezbollah and Israel fought a 34-day war. Quiet returned on Thursday, though Lebanese media reported overflights by Israeli air force drones.
The Iranian backed Hezbollah is busy backing Damascus in Syria's civil war. It may also be mindful of the ruin Israel has threatened to wreak on Lebanon should they again enter a full-on conflict.
Israel is gearing up for a March 17 general election and gauging the costs of its offensive on the Gaza Strip last year against Palestinian guerrillas, whose arsenal is dwarfed by Hezbollah's powerful long-range rockets.